The Sky's the Limit for Programmers Everywhere to Design and Launch Customized Applications (Apps) for the GE WattStation* via the Cloud ----PlugShare is First to Offer App Providing at the Charger Payment Flexibility Using a Choice of Major Credit Cards for Drivers ----Marriott Collaborates with EV Connect on System that Will Enable Guests to Reserve an Electric Vehicle Charger When Booking a Reservation ----GE Significantly Reduces Annual Software Usage Fees
PLAINVILLE, CONN.—April 8, 2014—GE's Industrial Solutions business (NYSE: GE) today announced that it is implementing an open access standard to its electric vehicle supply equipment (EVSE) Connect software platform to provide simple interoperability for drivers and expanded unit capabilities for owners. Programmers everywhere now can design and launch customized applications (apps) for GE's WattStation* EVSE via the cloud. No fees or royalties, the open application programming interface (API) to GE's Connect network means easy access to a vast network of program designers and builders to integrate tailored functionality with GE WattStations anywhere.

"How convenient would vending machines be if they required specific Coke or Pepsi coins depending on the machine?" asked Seth Cutler, lead product manager, EV infrastructure and software, GE's Industrial Solutions business. "The way we see it at GE, your EVSE should be as convenient as a vending machine." Cutler added, "Interoperability across EV charger hardware should enable greater choices for equipment owners and greater mobility for EV drivers. Ultimately, payment providers, such as PayPal or common credit cards, are better positioned to provide payment services for drivers and station owners than hardware providers."
Initial Programming Partnership Agreements
GE also recently established agreements with Recargo Inc., makers of the popular PlugShare app, and Car Charging Group, Inc. (OTCQB: CCGI) ("CarCharging"), owners of the Blink Network and EV chargers, to develop apps delivering increased payment flexibility at GE WattStations across North America.
Recargo's crowd-sourced public charging station app and new payment solution, "Pay With PlugShare," is the first to integrate with the WattStation Connect platform. Now, drivers using PlugShare, available for iOS and Android, are able to find a GE WattStation, view current pricing and availability and pay securely using Visa, MasterCard, Discover or American Express. The widely used EV charging locator app is used by more than 60 percent of all EV drivers and is well suited to directly integrate with GE's open API for a faster, easier and more accessible charging experience.
"GE and Recargo both encourage innovation through open software platforms, so we are happy that PlugShare is the first application to integrate with GE's Connect platform," said Brian Kariger, chief executive officer, Recargo Inc.
Simultaneously, GE and CarCharging are working together to establish interoperability between CarCharging's Blink and GE's WattStation EV chargers. Soon, CarCharging's Blink Network will serve as an alternative payment method for drivers at WattStations. In addition, GE and CarCharging will integrate their systems to allow drivers to utilize both companies' mobile applications and radio-frequency identification (RFID) cards interchangeably. Drivers will then be able to activate and deactivate charging sessions for both Blink and WattStation EV chargers via either company's mobile application or RFID card.
"GE and CarCharging are committed to breaking down barriers across EV charging networks and we are so pleased to join GE in launching a solution that provides EV owners with greater access to GE WattStations and the Blink Network," said Michael D. Farkas, chief executive officer, CarCharging.
Additional Functionality in Development
These partnerships are just the first examples of how the open API will change the way users charge. Marriott hotels is partnering with EV Connect to develop a hotel booking app that will eventually allow guests at some locations to reserve a GE WattStation when booking a room reservation—giving them peace of mind that an available charging station will be ready for them upon arrival.
Simplified Software Options and Rates
GE also is announcing a simplified software program and rate structure for EVSE equipment owners. Going forward, there will be three easy options: Wi-Fi and Ethernet-based units that will no longer have an annual software usage fee, and cellular-based units that will have a minimal flat rate to cover third-party data-provider costs.
"The open API Connect software platform with expanded functionality is a smarter and faster interface for drivers and owners of GE WattStations," added Cutler. "GE is committed to making EV infrastructure access and adoption simpler and more affordable, starting with a straightforward rate plan that can entirely eliminate or reduce annual EV manufacturer-based charges by as much as a third per charger for networked EVSE owners."
About GE
GE (NYSE: GE) works on things that matter. The best people and the best technologies taking on the toughest challenges. Finding solutions in energy, health and home, transportation and finance. Building, powering, moving and curing the world. Not just imagining. Doing. GE works. For more information, visit the company's website at www.ge.com.
Featured Product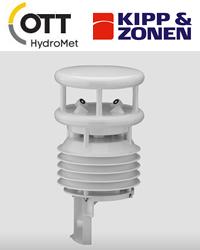 The WS50PV is an affordable, compact all-in-one weather sensor measuring the most critical parameters for commercial and industrial PV monitoring. Equipped with a suite of professional measuring sensors, the WS50PV can handle air temperature, relative humidity, barometric pressure, wind direction, and wind speed in one efficient housing to simplify mounting. Add an external temperature or rain sensor to the single-wire digital Modbus interface for fast and easy integration. The WS50PV is the tool you need for unlocking solar energy performance.