SR20-D1 is the most accurate digital secondary standard pyranometer available. Thanks to the intelligent sensor electronics inside SR20-D1, irradiance is a digital output. The industry standard Modbus RTU over RS485 protocol allows for easy data acquisition and error-free instrument exchange.
Hukseflux Thermal Sensors offers a complete range of sensors, systems and services for the measurement of solar radiation, heat flux and thermal conductivity. The company, based in Delft, the Netherlands, has now added the SR20-D1 digital secondary standard pyranometer to its range of solar radiation sensors. SR20-D1 is a pyranometer of the highest category in the ISO 9060 classification system. The instrument offers a smart solution for utility-scale PV power plants in measuring solar radiation for PV system performance monitoring. Among its benefits are the lowest measurement uncertainty and ease of data acquisition and servicing in networks.

SR20-D1 is designed for PV system performance monitoring, for scientific meteorological observations, as a reference instrument for comparisons and for use in extreme climates (tropical / polar). SR20-D1 pyranometer uses a state of the art thermopile sensor with black coated surface, two domes and an anodised aluminium body. The connector, desiccant holder and sun screen fixation are very robust and designed for industrial use. SR20-D1 uses a high-end 24-bit A/D converter. All parts are specified for use across SR20's entire rated operating temperature range.
Communication protocol is the industry standard Modbus RTU over 2-wire RS485. Specifications like this make SR20-D1 ideally suited for employment in SCADA and DCS networks. For communication between a PC and SR20-D1, the Hukseflux Sensor Manager software is included. It allows the user to plot and export data, and change the SR20-D1 Modbus address and its communication settings. SR20-D1 may be used combined with ventilation unit VU01 for ventilated high-accuracy solar radiation measurements.
Would you like more information? Visit www.hukseflux.com
Featured Product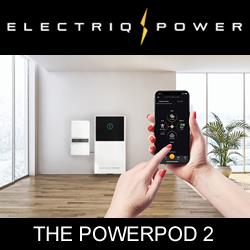 The Electriq PowerPod 2 is a fully-integrated home energy storage, management, and monitoring system powered by LFP batteries. The high-performance, cobalt-free product includes a hybrid solar/battery inverter controlled by intelligent software. The PowerPod 2 provides backup power and can self-consume or export excess power back to the grid.