SolarEdge unveiled its single-phase inverters with revenue-grade production data
FREMONT, CALIFORNIA; April 9, 2014 – SolarEdge, a leading provider of power optimizers and PV inverters, is now offering a suite of single-phase inverters with a built-in certified revenue-grade meter. The new single-phase inverters will report revenue-grade data directly to the SolarEdge monitoring portal, eliminating the need for installers and owners to purchase additional meters. SolarEdge is the first company to offer listed inverters with ANSI C12.1 certification for residential applications. The inverter's revenue-grade data can be easily exported by customers and used to collect state and federal rebates, including performance-based incentives (PBIs) and solar renewable energy certificates (SRECs).

The new SolarEdge revenue-grade inverters, listed on the California Energy Commission's list of "Eligible System Performance Meters," are available with nominal AC power ranging from 3,000 to 11,400 watts and come with the standard SolarEdge 12-year warranty, extendable to 20 or 25 years. The inverters are designed to work with SolarEdge's power optimizers to enable more flexible system designs, enhanced safety, increased power output, and real-time performance monitoring.
"The addition of revenue-grade metering capabilities marks the next step toward widespread adoption of SolarEdge optimized systems, the fastest-growing solution in the North American module-level power electronics sector," said Peter Mathews, General Manager of SolarEdge North America.
Shipping of SolarEdge revenue-grade inverters will begin in April. For more information, including product data sheets, please visit www.solaredge.us.
About SolarEdge Technologies
SolarEdge Technologies provides end-to-end distributed solar power optimization and PV monitoring solutions, allowing maximum energy production for faster ROI. The SolarEdge power optimizers perform MPPT per individual module while monitoring the performance of each module. Module-level electronics enable enhanced maintenance and increased system safety with the SafeDC™ mechanism. SolarEdge technology provides commercial PV systems with flexible design, increased system uptime, and decreased O&M costs. SolarEdge is online at solaredge.us
Press Contacts
SolarEdge Technologies
Michael Rogerson, Marketing Manager
Michael.r@solaredge.com
+1 510-498-3215
Antenna Group for SolarEdge
Alberto Gestri
SolarEdge@antennagroup.com
+1 415-464-6319
Featured Product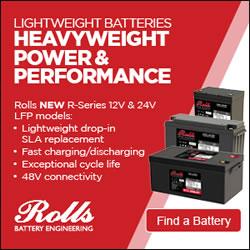 Rolls Battery has just introduced a new range of LFP lithium models. Available in 12V & 24V 50AH-300AH capacity options, the R-Series LFP lineup a lightweight, compact case design in four popular BCI case sizes (G24, G31, G49 & 8D), a customized BMS with added protections for safe & stable operation, improved cycle life (>6000 cycles @ 80% DOD) and up to 4x Series, 4x Parallel connectivity for 48V system configuration.