Application deadline for the 2014 SolarWorld Junior Einstein Award is April 15
Intersolar Europe 2014

HILLSBORO, Ore.--SolarWorld, the largest solar manufacturer in the United States and Europe, will accept applications for the annual SolarWorld Junior Einstein Award until April 15. Now in its ninth year, the Junior Einstein Award is the oldest and most prestigious prize for young scientists who undertake research relevant to the photovoltaic industry. The award offers a 5,000-euro prize.
The SolarWorld Junior Einstein Award aims to awaken young scientists' interest in the solar field and promote their innovative ideas. Winners will be announced at a ceremony to coincide with Intersolar Europe, the largest European solar trade show, in early June in Munich, Germany. For young scientists, this competition is an unmatched opportunity to present themselves and their work to a large group of scientific, business and academic representatives and make valuable contacts among them.
Eligible candidates include students focusing on electrical engineering, mechanical engineering, renewable energy, engineering, chemistry, physics, process engineering or a similar discipline who have developed research with implications for solar technology or related fields. Documentation of the applicant's scientific research in German or English must have been produced between June 2013 and April 2014.
A jury composed of well-known photovoltaic experts will choose the winner.
For more information on the SolarWorld Junior Einstein Award, go to www.einstein-award.de/en/junior-award/.
At the awards ceremony, SolarWorld also will present the SolarWorld Einstein Award to an international figure who has rendered outstanding service in the advancement of photovoltaics and its applications. Past Einstein Award winners include Hermann Scheer, Klaus Töpfer, Rupert Neudeck, Muhammed Yunus, Bertrand Piccard and Eicke Weber.
About SolarWorld
SolarWorld REAL VALUE: SolarWorld manufactures and sells solar power solutions and, in doing so, contributes to a cleaner energy supply worldwide. The group, headquartered in Bonn, Germany, employs approximately 3,200 people and carries out production in Freiberg, Germany; Arnstadt, Germany; and Hillsboro, Ore., USA. From raw material silicon to solar wafers, cells and modules, SolarWorld manages all stages of production ‒ including its own research and development. Through an international distribution network with locations in Europe, USA, Singapore and South Africa, SolarWorld supplies customers all over the world. The company maintains high social standards at all locations across the globe, and has committed itself to resource- and energy-efficient production. SolarWorld was founded in 1998 and has been publicly traded on the stock market since 1999, where it is noted in various indices, including ÖkoDAX and Photon-Photovolaik Aktienindex (PPVX). More information at www.solarworld-usa.com.
Featured Product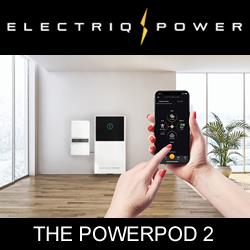 The Electriq PowerPod 2 is a fully-integrated home energy storage, management, and monitoring system powered by LFP batteries. The high-performance, cobalt-free product includes a hybrid solar/battery inverter controlled by intelligent software. The PowerPod 2 provides backup power and can self-consume or export excess power back to the grid.