For the full agenda, please visit http://www.all-energy.ca/en/Conference/Conference-Grid.
(April 9, 2014, Toronto, ON) The Plenary session at the All-Energy Canada Exhibition & Conference was a big success. The Plenary speakers left food for thought for the future of climate change and the future of energy in Canada and North America. The speakers were:

*Dr. Woodrow Clark, Nobel Peace Prize recipient
*Bob Rae, Former Ontario Premier and Interim Leader of the Liberal Party of Canada
*MPP Bob Delaney, Parliamentary Assistant to the Minister of Energy
*Chief Gordon Planes, Chief of T'Sou-ke Nation
*Mike Crawley, Ontario Government's Electricity Conservation and Supply Task Force
Day 1 of the conference will also include sessions on
*New Opportunities for Sustainable Energy Resource Development
*Smart Buildings and Design: Rethink, Redesign, Rebuild
*Energy Storage
Still to come – Day 2
9:30am – 11:30am
*Community Leadership in the Global Sustainable Energy Economy
*Invention, Innovation and Investment
*Smart Networks and Smart Cities
*Bulk Power to Distributed Power: Rebuilding the Renewing Canada's Power Infrastructure
10:15am – 1:30pm
*Far Market Trading: Europe, Asia & Africa
1:30pm – 3:00pm
*Aboriginal Economic Development and Sustainable Energy
*Profiting through Partnership
*Smart Transport and Transport Infrastructure
*Future solutions now - Bio / Technology Updates and Opportunities: Focus on Marine Energy and Solar Energy
3:30pm – 4:30pm
*Closing Plenary – Envisioning the future and laying out the roadmap for action: An All-Energy Approach to a Sustainable Future
For the full agenda, please visit http://www.all-energy.ca/en/Conference/Conference-Grid.
To arrange media accreditation or to schedule interviews with speakers, please contact Maria Leung, Environmental Communication Options at 416-972-7401(office) or 416-829-5932 (cell) or email mleung@ecostrategy.ca.
At this morning's free-to-attend trade show, Oraclepoll Research released an omnibus survey with Ontarians' opinion about energy costs and vote intent. The survey was conducted between April 1 and 7, 2014. A total of 1,000 people were surveyed with a margin of error of +/- 3%. Here are some results from the survey:
Top of mind energy issue
*Cost/price - 63%
Favourability ratings for new sources of power generation
*Solar - 77%
*Hydro Electric - 71%
*Natural Gas - 68%
*Wind - 59%
*Nuclear Energy - 36%
Political party most trusted with ensuring a reliable source of energy while reducing costs
*Don't know - 39%
*PC Party - 22%
*New Democratic Party - 15%
*Liberal Party - 12%
*Green Party - 6%
*None - 6%
Featured Product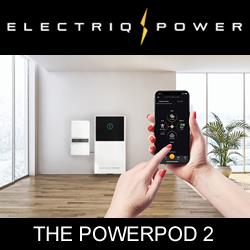 The Electriq PowerPod 2 is a fully-integrated home energy storage, management, and monitoring system powered by LFP batteries. The high-performance, cobalt-free product includes a hybrid solar/battery inverter controlled by intelligent software. The PowerPod 2 provides backup power and can self-consume or export excess power back to the grid.