LightHouse Smart Grid Sensors enable Veridian to respond to outages and restore power faster.
LightHouse Enables Veridian to Respond to Outages and Restore Power Faster

Chicago, IL (IEEE PES D&T), April 14, 2014 – Tollgrade Communications, Inc., the industry leader in redefining the global standard for reliability at the world's largest electric utilities and telecommunications providers, announced today at the IEEE PES Transmission & Distribution Conference & Exposition that Veridian Connections has deployed their award-winning LightHouse® platform that includes integrated Medium Voltage Smart Grid Sensors and Sensor Management System (SMS) software with Predictive Grid® Analytics. Veridian Connections provides electricity distribution services to more than 116,000 customers located in nine municipalities across east central Ontario.
"Veridian's diverse service area poses multiple challenges for fault identification and power restoration because the majority of the communities we serve are non-contiguous and many are in very rural areas. Before LightHouse we had to rely on line patrols or Fault Current Indicators (FCIs) and had very little visibility at rural substations," said Mark Turney, the utility's Vice President of Operations. "Now with LightHouse, we have a safe, maintenance-free solution that provides real-time data reliably at a fraction of the cost of alternatives. LightHouse allows us respond to outages and restore power faster."
"Veridian is one of the unsung heroes of grid modernization showing utilities how next generation technologies like Smart Grid Sensors can be used to more affordably retrofit intelligence into the distribution network," said Edward H. Kennedy, President and CEO, Tollgrade Communications, Inc. "Our work with Veridian proves how easy the integration of LightHouse into Supervisory Control And Data Acquisition (SCADA) systems can be."
Solution Overview
In 2013, Veridian turned to Tollgrade's LightHouse platform because it was a safe, maintenance free solution that could reduce Operations and Maintenance (O&M) expenses plaguing traditional fault detection methods, for example:
• Unlike FCIs, LightHouse Sensors are inductively powered (battery-free), with a lower Total Cost of Ownership (TCO) over their 20 year lifespan
• Unlike FCIs, LightHouse sensors have integrated communications and fault analytics software for better data accuracy, are remotely configurable and firmware upgradeable
Tollgrade's LightHouse system feeds data directly into Veridian's SCADA systems using the Distributed Network Protocol (DNP). A single SCADA screen is now used to view all field sensors, their alarms for permanent and momentary faults, and their loading data. Veridian is now able to identify fault type and to get visibility at their rural substations by aggregating load information from their feeders and substation transformers.
Using the "predictive grid" or analytical software features available in LightHouse, Veridian can start identifying the root causes of problems so that they can manage their system in the most optimal way. LightHouse possesses a unique ability to capture waveforms so engineers can analyze events in their network. By providing waveforms to better understand the nature (and location) of faults, Veridian's distribution engineers can more proactively respond to outages and momentaries.
From an asset management perspective, Veridian also found LightHouse particularly useful as a substation monitoring solution. The LightHouse Sensors are deployed in Veridian's rural substations where there are no breakers and relays for monitoring and control. The platform enables Veridian to have much greater visibility and reliability without installing costly backhaul communications like fiber optic lines. Tollgrade's LightHouse sensors have integrated communications, are hot stick deployable, and only take a few minutes to install. There is no need to roll fiber, de-energize substations or re-wire. Configurable alarms and reports enable Veridian to know when transformers are being stressed by overloading or are in danger of aging prematurely due to unbalanced load.
Demonstrations at IEEE PES Transmission & Distribution Conference & Exposition 2014. Tollgrade will demonstrate the LightHouse platform and their newly announced MV Power Sensor –the industry's first battery-free, hot-stick deployable Smart Grid sensor that provides accurate voltage and current measurements in a form factor requiring no pole mounted equipment. Visit Tollgrade in booth #2418 for a demonstration.
About Veridian Connections
Veridian Connections safely and reliably delivers electricity to more than 116,000 customers in the cities of Pickering and Belleville, the Towns of Ajax, Port Hope and Gravenhurst, and the communities of Uxbridge, Bowmanville, Newcastle, Orono, Port Perry, Beaverton, Sunderland and Cannington. Veridian Connections is a wholly owned subsidiary of Veridian Corporation. The City of Pickering, the Town of Ajax, the Municipality of Clarington and the City of Belleville jointly own Veridian Corporation. Learn more by visiting www.veridian.on.ca.
About Tollgrade
With more than 200 million lines under test, millions of utility outage minutes avoided annually and 25 years of experience successfully locating faults at the world's largest electric utility companies and telecommunication service providers, Tollgrade is redefining the global standard for reliability. Our award-winning fault detection hardware and predictive analytics software is deployed on four continents to help operators avoid network outages and reduce customer downtime. Tollgrade has been recognized as one of the Top 13 Smart Grid Companies to Watch in 2013 by SmartGrid News, received the Fierce Energy award for "Substation Automation and Distribution Automation" and a Best Practice Award from Frost + Sullivan. In 2013, the company was named the Smart Grid Sensor market share leader by IHS Research, and a Platt's Global Energy Awards finalist. Learn more by visiting www.tollgrade.com.
Tollgrade Media Contacts:
Cathy Clarke
CNC Associates
+1 617-527-2089 (mobile)
cathy@cncassocs.com
Anne-Laure Leroyer
Manager, Smart Grid Marketing
Tollgrade Communications, Inc.
+1 202-701-0083 (mobile)
+1 703-707-4588
Chris Mace
PR Representative – Corporate Communications
Veridian Connections
+1 905-427-9870, ext 2218
+1 905-621-2549 (mobile)
cmace@veridian.on.ca
# # # #
Featured Product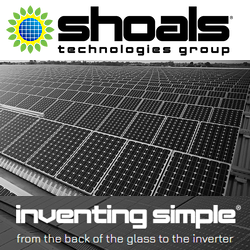 Inventing Simple® isn't just a slogan to us, it's a way of life. Using simple plug-and-play ideology, we revolutionized solar installations in 2003 with our Interconnect Systemâ"¢. Our harnessing system is now the gold standard EPC's use around the world. By using simple ideas, we are making solar energy a more affordable and clean power source for future generations.