A pan-European consortium led by the French wind specialist ASAH LM has been set up with best-of-breed specialists to develop SPINFLOAT, a novel 6 MW floating Vertical Axis Wind Turbine (VAWT) with pitched blades, mounted on GustoMSC's semi-submersible Tri-Floater.
The ambitious programme will be carried out by a multidisciplinary consortium of six private and public organisations from five European countries: SSP Technology the Danish leading blade manufacturer, Fraunhofer IWES the German Institute for Wind Energy in charge of the drive train, GustoMSC the Dutch designer of mobile offshore units, ECN the Dutch energy research Institute and the Italian University Politecnico di Milano for wind tunnel testing. The venture is led by the French wind power specialist ASAH LM.

This ground-breaking technology of floating wind turbine results from three major conclusions:
- Vertical axis rotors are more suited to the movement of a floater than conventional horizontal axis wind turbines;
- Pitched blades are mandatory to control the rotational speed in extreme winds and improve the aerodynamic efficiency;
- Braceless semi-submersibles provide the most cost-effective architecture of floater in terms of construction, inspection and maintenance.
Floating turbines are expected to deliver a lower cost of electricity than the conventional offshore turbines on fixed foundations because of higher wind speeds far from shore, lower installation costs (more operations being done onshore) and the absence of subsea constructions. Furthermore, floating offshore is environmental-friendly and less disruptive to fishery, navigation, tourism and hardly visible from the coast.
"We believe that the compelling advantages of SPINFLOAT and the quality of the initial consortium will attract local companies from coastal regions to create new jobs and participate to what we believe is a game-changer and a new standard for the floating offshore wind industry" says Alain Delsupexhe, founder and President of ASAH LM.
"GustoMSC is very pleased to further strengthen its position in floating offshore wind energy through this project. The combination of the expertise of our partners from the wind industry with our offshore experience forms a strong team. GustoMSC will design a reliable and cost-effective Tri-Floater to support this revolutionary new turbine." says Nils Van Nood, President and CEO of GustoMSC.
Artist view of Spinfloat ©2014 ASAH LM/GustoMSC
ASAH LM is an independent, end-to-end specialist of wind power. Established in France, Poland, Greece, and Taiwan, Asah Lm is active in four business lines covering the whole value chain of renewable energies: development of solar, onshore and offshore wind projects; investment funds management dedicated to renewable infrastructures; floating vertical axis offshore wind turbine technology; underwater compressed air energy storage (UW-CAES).
http://www.asahlm.com/en/
Featured Product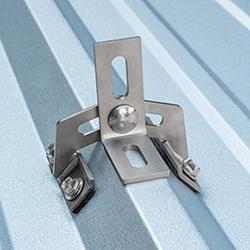 They have been changing the game for 10 years with their original Top Mount line for Asphalt Shingle roofs, and by now supplying one of the widest ranges of solar mounts in North America. From their patented products, to the custom production services they offer, QuickBOLT has been working with solar installers for nearly a decade to make solar installations easier than ever before.