The launch of Citra Solar follows on Crius Energy's introduction of solar services in September 2013 through its network marketing distribution channel, which saw immediate success and has continued to expand rapidly.
STAMFORD, CT, April 16, 2014 Crius Energy LLC today announced the launch of a new stand alone solar brand, Citra Solar™, to focus on capturing value in the fast-growing solar sector and complement the company's well-differentiated portfolio of energy brands, product offerings and distribution channels. The new brand allows Crius to leverage its diversified sales and marketing platform to reach customers through more of its channels. Initially, Citra Solar™ services will be offered to customers of Frontier Communications, a strategic marketing partner of Crius Energy.

The launch of Citra Solar follows on Crius Energy's introduction of solar services in September 2013 through its network marketing distribution channel, which saw immediate success and has continued to expand rapidly. That success points up a nationwide trend: Residential solar adoption continues to grow across the US, with solar representing the second-largest type of new energy generation capacity added in 2013, second only to natural gas. Amid this rapid growth, the introduction of the Citra Solar brand enables Crius to better scale its solar program and provides it with the flexibility to capture value by participating across the solar value chain.
"We are confident that this distinctive new addition to the Crius family of brands will allow us to accomplish three goals: leverage our existing distribution channels to reach more customers, increase our total volume of solar capacity sold and increase our margin per solar customer through a more integrated solar offering," said Michael Fallquist, CEO of Crius Energy. "Solar will play an important role in the generation of power in the decades to come and we are pleased that our diversified platform will enable more Americans to realize the benefits of this clean and affordable source of energy."
Citra Solar™ services are initially being offered through the company's strategic marketing partnership channel. In addition, the company plans to utilize direct marketing efforts to expand the brand's presence in its solar markets, which include Arizona, California, Colorado, Connecticut, DC, Delaware, Hawaii, Maryland, Massachusetts, New York, New Jersey, Oregon and Texas. In so doing, it offers more homeowners a simple and easy way to benefit from America's most important energy trend.
About Citra Solar
Citra Solar will leverage Crius Energy's sales and marketing strengths and will add value to the customer experience by connecting solar prospects with a team of solar experts. These highly-trained representatives act as personal advisors to remove the most common barriers to solar installation: the guesswork, homework, and legwork involved in choosing a solar provider. Citra's advisors answer any questions prospective customers may have, and make recommendations based on the homeowner's specific needs. More information is available at www.citrasolar.com.
About Crius Energy
With more than 610,000 residential customer equivalents, Crius Energy is a comprehensive energy solutions partner that provides electricity, natural gas and solar products to residential and commercial customers. Crius Energy connects with energy customers through an innovative family-of-brands strategy and multi-channel marketing approach. This unique combination creates multiple access points to a broad suite of energy products and services that make it easier for consumers to make informed decisions about their energy needs. Crius Energy currently sells energy products in 19 states and the District of Columbia with plans to continue expanding its geographic reach. For more information about Crius Energy, and for details about its family of energy brands, visit www.criusenergy.com.
Featured Product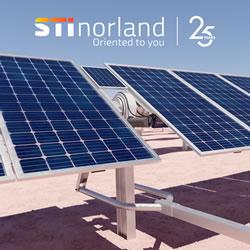 Developed in 2017, the STI-H250™ is consists of two linked torsion beams that rotate simultaneously following the sun's path. They are moved by just one motor, cutting supply and maintenance costs. STI-H250™ dual-row tracker includes backtracking mode to avoid shadowing between adjacent rows and stow function to protect the tracker in extreme wind conditions. For cleaning, vehicles can pass between trackers and each row can be placed in a different position.