Seeks industry participation in working groups
Tempe, Ariz., April 16, 2014 – TÜV Rheinland PTL, a standards developing organization (SDO) for the American National Standards Institute (ANSI), has successfully initiated the creation of two new American National Standards and is seeking the industry participation in the respective standards working groups. Stakeholders include manufacturers of photovoltaic (PV) modules, project investors and developers, utility companies, PV consumers, incentive programs as well as engineering and insurance companies. The new standards are:

· TUV-R 71732-01:201X: Qualification PLUS (Q+) Testing for PV Modules - Test and Sampling Requirements
· TUV-R 71733-01:201X: Quality Management System (QMS) Requirements for PV Manufacturing
Q+ test and sampling requirements go beyond the current qualification testing per the IEC 61215 standard. The objective of the test sequence is to test for degradation losses and reliability failures caused by components (encapsulant, connectors, cables, junction boxes and bypass diodes) and modules (solder bond, ribbon, cells and high system voltages). All test modules for the Q+ program must be chosen at random from a production line without allowing any engineering or preproduction samples. Qualification testing and certification per IEC 61215 will be the pre- and co-requisite for the Q+ testing and certification.
TUV-R 71733-01:201X describes the QMS requirements specifically for PV module manufacturing. The objective of the QMS certification is to minimize the quality issues specific to the PV module production, such as storage and production environment, supply chain and manufacturing traceability, selection of vendors, incoming inspections of materials and sub-assemblies, routine tests on 100% of the product, burn-in and lot-acceptance tests and a periodic monitoring program. QMS will be the co-requisite for the Q+ testing and certification.
These two standards are primarily based on the two protocols developed by U.S. Department of Energy's National Renewable Energy Laboratory (NREL) and key stakeholders of the industry:
· S. Kurtz et al., Photovoltaic Module Qualification Plus Testing, Technical Report (NREL/TP-5200-60950), December 2013 (http://www.nrel.gov/docs/fy14osti/60950.pdf)
· P. Norum et al., Proposal for a Guide for Quality Management Systems for PV Manufacturing: Supplemental Requirements to ISO 9001-2008, NREL Technical Report (NREL/TP-5200-58940), June 2013 (http://www.nrel.gov/docs/fy13osti/58940.pdf)
The California Energy Commission (CEC) plans to propose the Q+ program as an optional set of tests for its Eligible Hardware List (http://www.energy.ca.gov/2012publications/CEC-300-2012-008/CEC-300-2012-008-ED5-CMF.pdf).
"When creating Qualification PLUS, we did our best to address known issues and increase statistical sampling without adding unnecessary costs," said Sarah Kurtz, Ph.D., Principal Scientist and Reliability Group Manager at NREL. "We hope that it will prove useful to customers seeking a higher level of confidence in PV module reliability."
As North America's largest solar and PV testing company, an OSHA accredited NRTL and an active ANSI SDO, TÜV Rheinland PTL has proposed the above standards to strengthen the U.S. marketplace position in the global economy while helping enhance the product quality and long-term reliability. TÜV Rheinland tests and certifies solar products, systems and plants in the European Union, Asian and North American markets to assure that solar thermal, PV, CPV, and concentrated solar power systems comply with electrical, mechanical, and environmental requirements for both product quality and safety.
To get involved in TÜV Rheinland's standards working groups, contact Jerry Novacek, SDO Manager
at TÜV Rheinland PTL, at 480-966-1700 or jnovacek@us.tuv.com.
For more information, visit www.tuvptl.com or call TÜV Rheinland toll-free at 1-TUV-RHEINLAND (888-743-4652).
Featured Product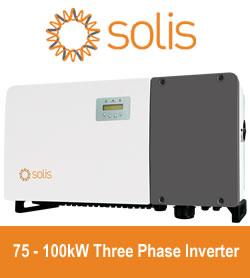 Solis75kW - 100kW series high-power string inverters are widely used in industrial and commercial rooftops. Solis's new three-phase string inverter is the first choice for industrial and commercial photovoltaics. 75-100kW three phase series string inverter have Maximum 28 strings input, support "Y" type connection in DC side. Maximum string input current 13A, support bifacial modules access.Supports anti-PID function to improve system efficiency.