"Locus ranked the highest across most of the evaluation criteria used to review monitoring providers"
HOBOKEN, N.J., April 17, 2014 -- Locus Energy, a solar monitoring and analytics company, has announced that it has signed an agreement with Amicus Solar Cooperative to be its preferred vendor of solar monitoring hardware, software and solar data analytics.

Hoboken, N.J.-based Locus Energy was selected from among its competitors for its outstanding reputation with the cooperative's members, the reliability and ease of use of its products, the ability of its products to analyze and troubleshoot issues quickly and remotely, its competitiveness in terms of price and its range of product options, as well as the quality of its technical support and its product warranties.
"We are excited to have been named the preferred supplier for the independent installers who are the backbone of the solar industry," said Adrian DeLuca, Locus' vice president of sales and marketing. "About a third of Amicus' membership was already using our products, and the input from these members was instrumental in its choice. The selection of Locus is a testament to the quality of our products and services."
Amicus Solar Cooperative, founded in 2011, is the nation's first and only solar purchasing cooperative and is focused on sharing best practices and pooling its members' buying power. Under the cooperative arrangement, Amicus' members are able to secure pricing for solar PV (photovoltaic) components that is competitive with pricing secured by much larger companies.
Amicus, which is based in Boulder, Colo., has about 30 members primarily serving the residential, commercial and industrial solar PV markets. Each member is an equal owner of Amicus, with independent offices located across 22 states.
"Locus ranked the highest across most of the evaluation criteria we used to review monitoring providers," said Stephen Irvin, Amicus' president. "Locus doesn't just present its data in a very useful way, but is using that data to create more advanced monitoring and data analytics features that will be very useful to our members in helping them to better provide best-in-class O&M services to their customers."
Locus will supply products to Amicus members in two categories. The first is Locus' Data Acquisition Systems (DAS) solar monitoring hardware and its accompanying SolarOS(TM) cloud-based software. Unlike competing products, Locus' LGate series of monitoring hardware is popular with solar installers because it is designed specifically for solar PV systems and because of the ease with which it can be installed and configured.
"Solar monitoring solutions are one of the smaller costs of a solar PV system, but they can be of the most difficult components to design, install and commission," DeLuca said. "Locus' monitoring solutions vastly simplify the process of gathering, organizing and visualizing solar PV performance data, allowing EPCs and integrators to drive down the overall cost and complexity of system installations."
And with recent updates to Locus' charting tool and alerting system, system operators will be even more prepared to diagnose performance issues and improve system efficiencies. The updates enable more accurate system analysis by improving workflow and providing faster access to granular data. With one unified platform, operators are able to quickly manage alerts across a large number of systems.
Locus is the nation's largest independent provider of solar monitoring solutions, with its hardware and software being used by more than 30,000 residential, commercial and utility systems throughout North America.
Locus's leadership in the emerging field of big data analytics for solar was another reason for its selection by Amicus. Locus is continually developing smarter analytic tools that help system stakeholders drive operational efficiency by analyzing the current and future performance of solar PV systems, as well as the reasons behind a system's failure to perform.
"Where Locus is going with analytics was a huge plus," Irvin said. "The access to Locus' advanced analytics gives our independently owned and operated members a competitive edge. With the help of Locus' products and services, our members will be able to remain competitive by driving down installation, operations and management costs."
About Locus Energy
Locus Energy develops web-based asset management software for renewable energy systems. We provide monitoring, analytics and data services for deployments of solar photovoltaic and solar thermal technology. By leveraging Locus Energy's products, renewable finance companies and integrators can drive down the cost and complexity of energy monitoring while making it much easier to maintain and service an installed client base. Founded in 2007, Locus Energy has offices in New Jersey and San Francisco, and monitors over 30,000 PV arrays worldwide. For more information, visit www.locusenergy.com.
About Amicus Solar Cooperative
Amicus was founded in the fall of 2011 when a small group of friendly solar installation companies decided it was time to form a special organization where independently owned and operated solar PV installation companies could support each other by sharing best practices and pooling their buying power. Amicus is a purchasing cooperative that is jointly owned and democratically managed by our member companies. For more information, visit www.amicussolar.com.
Featured Product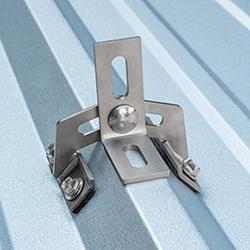 They have been changing the game for 10 years with their original Top Mount line for Asphalt Shingle roofs, and by now supplying one of the widest ranges of solar mounts in North America. From their patented products, to the custom production services they offer, QuickBOLT has been working with solar installers for nearly a decade to make solar installations easier than ever before.