The installation of this project will start by middle of 2014.
WALNUT, Calif., April 21, 2014 -- Sunvalley Solar, Inc. (SSOL), a leading solar power technology and solar system integration company, announced today that it has been awarded a new 1,122KW solar system installation contract from Wreden Ranch in Handord, CA.

The 1,122KW contract is for a system capable of generating 2,096,352Wh of electrical power annually. The system utilizes 3,740 pieces of high-efficiency 300-watt poly-crystalline solar panels.
"This is definitely a milestone for Sunvalley Solar in terms of the system size and the project funding solution. The customer's financial support, in the form of a project loan from a financial institution and a banking partnership, effectively addresses solar funding issues resulting from the termination of the Federal Cash Grant solar incentive plan last year. The faith, by both the bank and the customer, allows Sunvalley to demonstrate its commitment to its customers and provide the highest quality solar solutions. We are confident of future contracts with this project financing capability," said James Zhang, CEO of Sunvalley Solar, Inc.
The installation of this project will start by middle of 2014.
About Sunvalley Solar, Inc.
Sunvalley Solar, Inc. is a leading solar system solution provider that offers comprehensive solar energy technology, system design, installation, equipments, and technical support for electrical contractors, builders, homeowners, businesses/commercial buildings, and government entities that assist them in lowering of utility bills, reducing environmental impacts, and increasing energy reliability and independence through solar energy. Located in Los Angeles, California, Sunvalley Solar, Inc. is committed to reducing the world's carbon foot print from traditional energy sources to make renewable sources such as solar the nation's mainstream source of power.
To learn more, visit www.sunvalleysolarinc.com.
Featured Product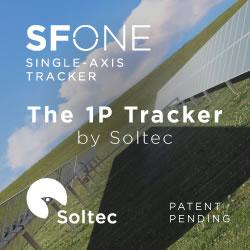 Soltec manufactures and supplies solar trackers designed and proven for extreme climate conditions, which is an ideal solution for any region's environment. Soltec's trackers are self-powered, requiring no additional PV module or grid-powered connection. Bifacial modules collect energy on both the front and rear sides, capturing reflected irradiance from the ground surface under and around the tracker and from other modules. Depending on site conditions, bifacial yield-gain can reach +30 percent.