TerraSmart is selected for a 4.2 MW ground mount project in Tolland, Massachusetts.
ESTERO, FLORIDA – 15 APRIL 2014 -- TerraSmart, a leading turn-key ground mount racking provider, was selected for a 4.2 MW ground mount pv-system in Tolland, Massachusetts. The project was awarded to TerraSmart for its proven, reliable ground screw solution to penetrate arduous soil environments cost effectively and efficiently. With construction underway, TerraSmart's utilized its adaptable racking solution to follow the grade contours of the project. TerraSmart is simplifying the installation to ensure the project stays on track for a scheduled completion in early June.

Richard Van Fleet, project manager for TerraSmart, commented, "The ground screw has proven to be the right solution to penetrate the ledge that is being encountered on the project in Tolland."
###
About TerraSmart:
TerraSmart specializes in designing, engineering, manufacturing, and installing industry leading, turnkey, ground mount racking solutions for commercial to utility-scale solar projects. By incorporating TerraSmart's innovative ground screw foundation with its racking system, TerraSmart has transformed the solar industry by minimizing project risks, ensuring successful installation in all soil types, and offering a cost effective solution to enable developers to successfully win more projects.
For more information, visit us online at http://www.terrasmart.com
Contact:
Shannon Quinn
TerraSmart
9200 Estero Park Commons Blvd
Suite 7
Estero, Florida 33928
Phone:239.362.0211
Fax: 239.362.0586
http://www.terrasmart.com
squinn@terrasmart.com
Featured Product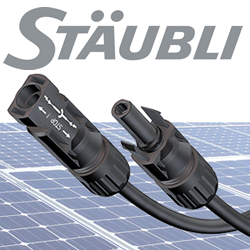 ​Stäubli Electrical Connectors are used on more than 300 GW, over 50% of the PV capacity worldwide. The MC4 family of UL and TUV listed products include connectors, in-line fuses, branch connectors, cable assembly and more.