Next-level research and proprietary testing advances turbine's durability and efficiency
NEW YORK, New York, April 22 2014 - UGE, a global leader in distributed renewable energy, announced today the launch of the VisionAIR3, its cutting-edge wind turbine that offers greater durability and increased efficiency over its prior model of the same size. As part of UGE's growing suite of renewable energy solutions, VisionAIR3 retains the sleek design and silent power of its predecessors, while incorporating the latest advancements in turbine design.

VisionAIR3 is the result of more than a year of proprietary testing and research, which allowed UGE to conceive and reimagine a new series of vertical axis wind turbines. The series also includes the VisionAIR5, announced last year, and the turbines are all designed to maximize annual energy production.
"VisionAIR3 is our latest achievement as a leader in distributed renewable energy. We take pride not only in our solutions-focused approach to renewable energy, but also in advancing the industry with new research and innovative products," said Jamie Myers, Business Development Manager at UGE. "As we continue to address the energy challenges faced around the world, VisionAIR3 will be a vital piece of the puzzle for creating the best systems and addressing our customers' needs."
Beginning today, the VisionAIR3 turbine will be available both for installations which feed energy into the grid, and those that operate independently, integrating UGE's power management electronics with solar, energy storage and smart grid solutions.
"Energy security and climate change are both increasingly critical issues around the world. Businesses and geographical areas that face unstable grids frequently must use expensive, wasteful generators to keep the power on," said VP of Engineering Scott Van Pelt. "Vertical axis wind turbines like the VisionAIR3 can reduce or even eliminate these inefficiencies, harnessing the wind's energy to reduce emissions and high costs."
The VisionAIR3 blades are manufactured using UGE's advanced Vacuum Infusion Process method. This method, currently the highest standard available in the industry, ensures higher fidelity to design and consistency, as well as faster production times.
VisionAIR3 is designed to integrate effortlessly into UGE's SeamlessGrid™ power management system which can easily incorporate solar panels for hybrid installations. SeamlessGrid™ includes advanced remote monitoring and control through UGE's ViewUGE™ platform as well as additional safety features that redefine safety and long-term reliability for distributed energy systems.
Like all products provided by UGE, VisionAIR3 has been extensively tested for standards of safety, reliability, and performance. UGE systems are designed for specific on-site needs and resource availability, incorporating various technologies, including VisionAIR3 and other wind turbines.
VisionAIR3 is available for order starting today from UGE and the worldwide UGE Partner Network.
About UGE
With projects in 80 countries, including installations for several Fortune 100 companies, UGE is changing the face of distributed renewable energy at a global scale. UGE puts users in control of their energy source by deploying hybrid wind, solar and storage solutions, from commercial facilities in North America and Europe to telecom towers in developing countries. UGE's technology advantage includes proprietary wind technology, site planning and deployment, power electronics, and remote monitoring and control systems, which are combined into best in class solutions at the nexus of energy cost, security and sustainability.
Featured Product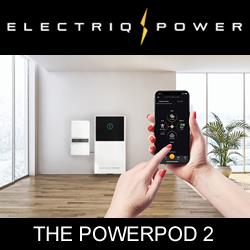 The Electriq PowerPod 2 is a fully-integrated home energy storage, management, and monitoring system powered by LFP batteries. The high-performance, cobalt-free product includes a hybrid solar/battery inverter controlled by intelligent software. The PowerPod 2 provides backup power and can self-consume or export excess power back to the grid.