Renewable energy already delivering more value to UK economy than shale gas can – but political posturing deters investment
Conservative Energy Minister Michael Fallon today lauded the economic potential of shale gas, while simultaneously announcing that the Conservatives would remove support for new onshore wind farms if they win the next general election.

The report by the trade body United Kingdom Onshore Operators Group (welcomed by DECC) forecasts up to 64,000 jobs across the shale gas value chain at the industry's peak [1]. The REA's 2012 analysis of employment in renewable energy – to be updated next week – found there were already over 100,000 jobs across the renewable energy value chain, with scope for many more as the industry expands [2].
REA Head of Public Affairs James Court said:
"This kind of nakedly political positioning from the Conservatives undermines all the positive work this Government has put into renewables. The shale gas industry has Government's unwavering support, and yet according to its own figures its potential for jobs is less than the renewables industry already achieves in the UK.
"Renewables are delivering today, while any potential benefits from shale gas are still some way off. Renewable energy is attracting investment, creating jobs, cutting costs, improving our energy security and preserving our environment. We urge the pragmatic wing of the Conservative Party to resist this political game-playing and make their voices heard in the debate."
Featured Product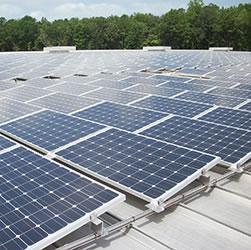 The Power Rail™ Commercial Mounting System is designed with the professional PV solar installer in mind. Both the XD/UD and LD/MD rails feature single tool assembly with the revolutionary patented RAD™ Lock-in-Place bolt for fast and secure module clamping. The high strength marine-grade aluminum rails include an integral wiring channel for securing cables and providing a professional finish.