Spanish developer and manufacturer achieves an important milestone in its aim to take a leading role in the UK distributed wind market, with two twin turbine sites in Scotland
London, Thursday 24th April 2014 – Norvento, an independent, medium-scale wind turbine manufacturer and developer, has secured planning consent for two new twin turbine sites in Scotland. The four nED100 turbines will be located in Castle Douglas and Midlothian and will be completed in June and July 2014, respectively.

Combined, the two twin turbine site developments demonstrate a new way in which farmers and landowners can install wind turbines on their land and take advantage of Norvento's financial flexibility and a more innovative approach to site investment.
Under the terms of Norvento's standard on-site consumption agreements, the farms will benefit from a preferential power purchase agreement (PPA) that provides them with a significantly discounted electricity supply. These agreements sit in addition to individual, tailored land leasing deals that provide an opportunity for the farms to earn a long-term rental income.
Norvento has launched a scheme where it rents the land from the farmer to install and operate its wind turbines. In exchange the farmer can choose between a fixed and/or variable rent based on turbine performance, while benefiting from a discounted energy supply (when applicable).
In the case of the two Scottish wind turbine sites, such arrangements have been tailored to meet the specific and unique needs and requirements of the farms.
For example at one of the sites, Norvento has invested in the introduction of a 3-phase electricity power supply, bringing mains power closer to the farm and to the two turbines. This enables the farmer to receive significantly discounted electricity, to power the dairy, from Norvento, while maintaining a secure and reliable grid connection for additional power requirements and potential increase of the farming operation.
As the medium scale UK wind market works around the increasing complexities of grid connections, Norvento's commitment to ensure its customers can benefit from class-leading grid-friendly technology and pass on excess power generation means that farmers and landowners can realise multiple benefits from pursuing wind energy installations.
Norvento's nED100 is a pitch and rotor-speed controlled turbine. This double feature allows the machine not only to maximise extraction of energy in any given wind speed condition but also to switch into a low noise mode should it be placed near noise sensitive locations. This is an issue of growing concern in the UK and more specifically in Scotland.
The first nED100 turbine in the UK was approved by Powys County Council and erected on 23rd January 2014. This development has been swiftly followed by the confirmation of these two further twin turbine sites in Scotland.
"We're starting to see a strong interest from customers which is allowing us to build a robust pipeline of sites for future turbine installations," said Ivo Arnús, Director of Business Development, Norvento.
"Capitalising on the technological developments that Norvento has brought to the medium scale wind market, farmers, landowners and developers recognise that there are greater returns available by using more efficient and reliable turbine technology."
"With the backing of an established and proven Spanish parent business, Norvento's UK operations offer the flexibility and entrepreneurial drive of a fast growing and ambitious emergent business but with the stability, confidence and pedigree of an experienced developer to boot.
"For the agricultural and farming community, this is critical, since it allows them to diversify into more revenue streams, which in effect can enhance other business operations as well as safeguard and protect their resources and assets by reducing energy costs"
In 2014, Norvento will be introducing new ways in which the farming and agricultural communities can capitalise on innovative and new turbine technology, to make the future finance and purchase of new turbines and units even easier. Further details will be outlined in the summer.
The two Scottish farm developments add to the portfolio of projects that Norvento is already developing and operating in the UK and bring the total number of nED100 turbine installations on the UK mainland to five.
Featured Product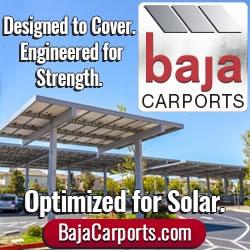 Baja Carports offers an extensive solar support system product line customized to customers' site specifications by in-house engineers, meeting their parking lot coverage, plus optimal PV production needs. Baja's Full Cantilever Tee is often paired with its Semi and Full Cantilever carports to meet live/loads up to 60psf and wind speeds to 160mph. All Baja products are pre-fabricated, bolted connections, pre-galvanized structural steel for fast on-site installation and project aesthetic requirements."