Second largest solar roof installation in Palo Alto
ALBUQUERQUE, N.M., April 24, 2014

Unirac, Inc., a Hilti Group Company and the leading provider of high quality, competitive PV mounting solutions in North America, was selected by Cobalt Power Systems Inc. to provide a 397.5 kW Roof Mount (RM) mounting system recently installed at the Oshman Family JCC (OFJCC) campus, in Palo Alto, CA.
The installation, developed by THiNKnrg, is Palo Alto's second largest solar roof system and encompasses 1,840 solar panels on 12 buildings of the Taube Koret Campus for Jewish Life (TKCJL). Combined, the solar arrays will generate enough energy to offset approximately 9,500 tons of CO2 over the next 20 years; which is equivalent to removing 1,814 passenger cars from the road.
"These projects required a modular solution to accommodate the different layouts on the 12 roofs," said Daniel Hill, Director of Solar Design & Sales for Cobalt Power Systems. "RM was selected for its ease of design and installation around roof obstacles. RM has proven to be an intuitive product with a short learning curve, yielding faster installation rates than expected."
ROOF MOUNT introduces the Power of Simplicity to the ballasted, flat roof solar industry. The system consists of only two major components, minimizing preparation work and installation time. RM allows installers to seamlessly design around roof obstacles, support most framed modules and bond the system with just the turn of a wrench.
Cobalt procured RM from Gexpro, a Unirac Elite Partner. Unirac's partners have distinguished their level of customer support, availability, and overall value, thereby providing the highest level of service to installers.
About Unirac Inc.
Unirac, a Hilti Group Company is North America's leading provider of infrastructure for solar power systems. Recognized as an industry innovator on both the product and process side, we provide the best mounting solutions to our customers through high quality, competitively priced products, responsive customer support, industry leading engineering services and excellence in supply-chain management. Unirac has achieved certifications for ISO 9001:2008 for QMS, ISO 14001:2004 for EMS and OHSAS 18001:2007 for safety. For more information about Unirac, please visit www.unirac.com.
Featured Product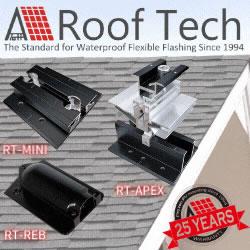 Now Roof Tech brings you the most innovative, watertight mounting systems ever developed for solar photovoltaic systems. Designed and manufactured exclusively for us by Japan's longtime leader in roofing technologies, Roof Tech products are 100% code-compliant and offer fast, simple installation and huge savings on shipping costs due to their compact, rail-less design. Learn more about our full line of versatile PV mounting solutions now available for residential installations. The next generation in rooftop solar mounting solutions."