Mersen Surge-Trap® SPDs protect your property from damage
NEWBURYPORT, MA (April 24, 2014) — Mersen (formerly Ferraz Shawmut) is pleased to announce the availability of a new video entitled, "Indirect Lightning Strikes and Mersen's Surge-Trap® SPDs."

Mersen, an industry pioneer in surge protection technology, developed this video to show the physical and monetary impact of indirect lightning strikes. While many people are familiar with the damage that a lightning strike can inflict, fewer people are knowledgeable about the dangers of indirect lightning strikes. The video shows how Mersen employee Kent Walker, who is also a local volunteer fire department lieutenant and EMT, was affected when his neighbor's house was damaged by an indirect lightning strike.
Mersen's world-class suite of surge protective devices was developed to protect both commercial and industrial facilities as well as residential properties from overvoltage, transient spikes, and surge events. Surge-Trap SPDs meet UL1449 3rd Edition standards and feature Mersen's industry leading patented TPMOV® technology inside. Mersen's Surge-Trap SPDs provide advanced overvoltage protection to meet today's toughest requirements for proven and safe facility-wide protection.
Mersen's Surge-Trap line includes:
*Surge-Trap Type 1 SPDs: no-fuse surge suppressors for indoor and outdoor, commercial, industrial or residential applications
*Surge-Trap Type 4 Modular and Pluggable DIN-rail style SPDs: no-fuse, fail-safe surge suppressors
*Surge-Trap Photovoltaic SPDs designed specifically for the PV industry and tested to the most stringent requirements
For more information about the company's full range of electrical power solutions visit ep.mersen.com, email info.nby@mersen.com, or call (978) 462-6662.
About Mersen
Mersen, formerly Ferraz Shawmut, is a worldwide expert in high-performance materials for extreme environments and in the reliability and safety of electrical installations. Drawing on a century of experience—and an ongoing commitment to critical research in electrical safety— it provides industrial, commercial, and OEM customers with innovative products and unsurpassed technical support. The electrical and circuit protection division provides a comprehensive line of current-limiting fuses (low voltage, general purpose, medium voltage, semiconductor, miniature and glass, and special purpose) and accessories, fuse blocks and holders, power distribution blocks, low voltage disconnect switches, surge protection, high power switches, heatsinks, and more. Amp-Trap® High-Speed Class J (HSJ) fuses, TPMOV® Technology, and the SmartSpot® open-fuse indicator are a few of the company's latest innovations. For more information, call (978) 462-6662 or visit ep.mersen.com.
Featured Product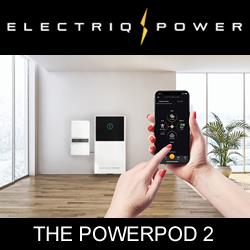 The Electriq PowerPod 2 is a fully-integrated home energy storage, management, and monitoring system powered by LFP batteries. The high-performance, cobalt-free product includes a hybrid solar/battery inverter controlled by intelligent software. The PowerPod 2 provides backup power and can self-consume or export excess power back to the grid.