It would dethrone Germany thanks to growing solar-farm pipeline
SAN FRANCISCO ó The United Kingdom will be Europe's largest solar-panel market this year, thanks to the rapid growth of its solar farms, a market research firm said Monday, dethroning Germany.

More than 120 utility-scale solar power plants have been approved for construction in the U.K., and many are targeting completion within the next 12 months, NPD Solarbuzz said in a report.
The U.K.'s government has set a target of 20 gigawatts of cumulative solar capacity by 2020. Solar power farms will provide the bulk of the contribution.
China, Japan, and the U.S. were the top three solar markets in 2013, with Germany fourth and the U.K. rounding up the top five, NPD Solarbuzz said in a research note in March. Analysts had said then they expected a broader shift to Asia as the solar-panel market in India and Thailand grows.
The enthusiasm for solar panels and systems has often failed to translate into a boost for stocks of solar-panel makers.
A few Chinese-based manufacturers said earlier this month they expect to sell fewer solar modules in the first quarter than what they forecast, blaming seasonality and company-specific hiccups.
Solar stocks were mostly down on Monday, failing to catch any tailwinds from rallying U.S. stocks.
U.S. equity markets rose on deal news in the pharmaceutical and telecom sectors and stronger-than-expected pending home sales data.
U.S.-listed shares of solar-panel maker Trina Solar Ltd. TSL +0.54% were down 4.7%. U.S.-listed shares of maker JA Solar Holdings Co. JASO -0.63% are also among the top decliners, off 2.9%.
Shares of solar installer SolarCity Corp. SCTY +0.32% fell 1.8%.
SolarCity said Monday it would report first-quarter earnings May 7 after market close.
Analysts polled by FactSet expect SolarCity to report an adjusted loss of 71 cents a share, compared with an adjusted loss of 41 cents in the year-ago period. The company is seen reporting a loss of $59 million, compared with a loss of $31 million in the first quarter of 2013.
The company warned in late February it would install fewer panels due to severe winter weather. SolarCity also delayed reporting fourth-quarter financial results twice earlier this year, due to an accounting error.
Featured Product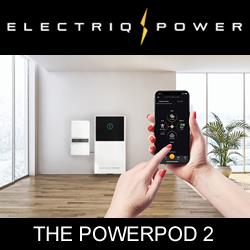 The Electriq PowerPod 2 is a fully-integrated home energy storage, management, and monitoring system powered by LFP batteries. The high-performance, cobalt-free product includes a hybrid solar/battery inverter controlled by intelligent software. The PowerPod 2 provides backup power and can self-consume or export excess power back to the grid.