Over 200 Students to compete in the 6th annual Maine Wind Blade Challenge, May 2, 9:00-2:00, U-Maine New Balance Student Recreation Center, Orono
ORONO, Maine - 38 high school teams from all parts of Maine will be competing Friday May 2nd at the Maine Wind Blade Challenge. The teams have been working over the past months to design the most efficient wind blade systems to generate electricity. On Friday they will put their designs to the test at the University of Maine competing to be this year's Wind Blade Challenge Champion.

The Maine Wind Blade Challenge was developed by Maine Composites Alliance (MCA) in partnership with the Maine Ocean & Wind Industry Initiative (MOWII) with support from the University of Maine College of Engineering and the Advanced Structures and Composites Center to inspire student exploration of alternative energy and advanced materials by participating in a hands-on application of Science, Math, Engineering and Technology (STEM). The Wind Blade Challenge partners high school teams with Maine advanced composites manufacturers to research, design, and manufacture model wind blades. Each team must compete against other teams to generate the most energy over 2-minute period, and make presentations illustrating the research, design and engineering processes. The event will be held from 9-2 at the U-Maine New Balance Student Recreation Center.
"This is an important workforce development program that introduces students to careers in growing technical fields with a high demand for good paying jobs," said Stephen Von Vogt of the Maine Composites Alliance. The opportunity to apply STEM principles to a real world challenge while working work with professional technicians creates unique career exploration opportunities for Maine youth.
Previous students from the competition have gone on to earn degrees at the University Of Maine College Of Engineering, Southern Maine Community College Composites Technician Program, Northern Maine Community College Wind Turbine Technician Program, and the Landing School Composite Boat Building Program. Past participants also now work professionally as engineers, composite technicians and wind turbine technicians in Maine.
The Maine Composites Alliance (MCA) is an alliance of composite businesses in Maine who work together to recognize and promote Maine's leadership in the international composite industry. MCA aims to enhance the competitiveness of Maine's existing composite industry by providing opportunities for new commercial ventures, and by providing education and training for members and their employees.
The Maine Ocean and Wind Industry Initiative (MOWII) represents companies' expertise within the Maine ocean and wind energy supply chain, works proactively to promote the expertise of member companies, provides solutions to local, national, and international market participants, and provides industry and public educational opportunities.
The College of Engineering at the University of Maine (COE) is the sole institution in Maine to offer 11 engineering and engineering technology majors and full M.S. and Ph.D. programs. The College of Engineering is working for Maine to educate and train the next generation of engineers to meet the growing technological needs of our state, and to develop the innovations needed to power Maine's economy.
The Advanced Structures and Composites Center is a state-of-the-art one-stop-shop for integrated composite materials and structural component development. Located at the University of Maine, it offers in-house capabilities for developing a composite product or structure from the conceptual stage through research, manufacturing of prototypes, comprehensive testing and evaluation, code approval and commercialization.
Wind Blade Challenge was created to inspire, motivate, engage, and introduce students to the world of STEM education, composites and alternative energy with the purpose of building a strong workforce in the composite and alternative energy industries. Students from past competitions are now working in the Maine composites, wind industry and/or continued their education in STEM fields. http://mainewindbladechallenge.com/
Featured Product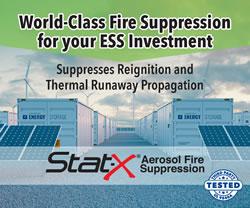 Stat-X® Condensed Aerosol Fire Suppression is a solution for energy storage systems (ESS) and battery energy storage systems (BESS) applications. This includes in-building, containerized, and in-cabinet applications. The Stat-X product was tested for efficacy in putting out Li-ion battery fires. It was found that the Stat-X agent successfully extinguished single and double cell battery fires. This testing was conducted in parallel with a large battery fire testing program. DNV GL Energy conducted the testing and validated effectiveness of the Stat-X aerosol agent on cell level Li-ion battery fires.