Innovative finance company measures community solar impact using Enphase's Enlighten platform
PETALUMA, Calif.--Enphase Energy, Inc. (NASDAQ: ENPH) announced today its successful partnership with HERO (Home Energy Renovation Opportunity), a leading residential energy efficiency-financing program in the United States. HERO enables homeowners who receive financing for Property Assessed Clean Energy (PACE) in their county to repay the debt through property taxes, with tax-deductible interest.

More than 1,200 Enphase solar systems have been financed with the HERO program over the course of two years in Southern California by 131 different solar installers, including large national installers, regional installers, HVAC contractors and electrical contractors.
"This partnership is accelerating solar growth. Enphase technology makes a solar installation more productive and easier to manage. HERO makes the financing simple and affordable. A milestone like this and a partnership with HERO is a great validation of the growing value of solar for homeowners," said Paul Nahi, CEO of Enphase Energy.
The Enphase® System includes the Enlighten software platform, which provides users with an engaging interface to view and share their solar energy production. Importantly, Enlighten provides critical insights on program performance for communities offering the HERO Financing Program.
"HERO monitors production of the distributed fleet of financed systems using Enphase's Enlighten platform, which enables us to easily demonstrate to cities and counties the benefit of solar in their communities," said Nick Fergis, COO of Renovate America, the administrator of the HERO Program.
Due to the success of the program, it is expanding beyond Riverside and San Bernadino into other California counties in 2014. This expansion will add to the more than $180 million of solar and energy efficiency loans to date for the program and is expected to create nearly 2,000 jobs annually.
Solar contractors can register for the program for free and receive training and marketing materials by visiting: https://www.heroprogram.com/Contractors.
About Enphase Energy, Inc.
Enphase Energy delivers microinverter technology for the solar industry that increases energy production, simplifies design and installation, improves system uptime and reliability, reduces fire safety risk and provides a platform for intelligent energy management. Our semiconductor-based microinverter system converts energy at the individual solar module level and brings a systems-based, high technology approach to solar energy generation. Connect with Enphase on Facebook and follow us on Twitter. www.enphase.com
About HERO
The HERO Program is a private-public partnership enabling any city or county to offer Property Assessed Clean Energy (PACE) financing to property owners within their communities. HERO has been adopted by more than 120 cities in California, funded more than $180 million in energy- and water-efficiency projects and created more than 2,100 jobs, to date. The HERO program has won the Governor's Environmental and Economic Leadership Award in California, the Urban Land Institute Best of the Best, and the Southern California Association of Governments President's Award for Excellence. To learn more about HERO, visit www.heroprogram.com.
Featured Product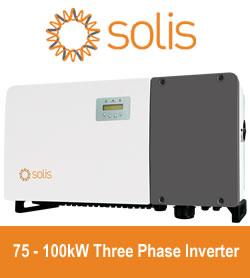 Solis75kW - 100kW series high-power string inverters are widely used in industrial and commercial rooftops. Solis's new three-phase string inverter is the first choice for industrial and commercial photovoltaics. 75-100kW three phase series string inverter have Maximum 28 strings input, support "Y" type connection in DC side. Maximum string input current 13A, support bifacial modules access.Supports anti-PID function to improve system efficiency.