Solar Systems announces completion of 1MW solar power plant at the Nofa Equestrian Resort, near Riyadh, Kingdom of Saudi Arabia (KSA). ----Solar plant represents first off-shore deployment of Solar Systems' unique 'Dense Array' dish concentrator solar technology. ----KSA is a key emerging market for Solar Systems, with plans evolving to invest heavily in solar energy with a $US109 billion program to help replace domestic oil consumption.
SYDNEY & RIYADH, Saudi Arabia--Solar Systems Pty Ltd, a wholly owned subsidiary of Silex Systems Limited (ASX:SLX) (OTCQX:SILXY), has today announced the completion of a 1MW solar power generation facility at the Nofa Equestrian Resort near Riyadh, Saudi Arabia.

Completion of the 28-dish, diesel replacement facility marks an important milestone for Solar Systems as the first international deployment of the Company's unique 'Dense Array' Concentrated Photovoltaic (CPV) technology.
The facility also gives Solar Systems a presence in one of the world's largest emerging renewable energy markets. The KSA plans to build 41GW of solar energy generating capacity over the next two decades under a $US109 billion competitive procurement program administered by the King Abdullah City for Atomic and Renewable Energy (KA CARE).
The Kingdom plans to generate a third of its electricity from solar energy by 2032 to partly offset approximately $US100 billion (at current oil prices) of annual export revenues lost due to domestic oil consumption.
Silex Systems CEO Michael Goldsworthy said local conditions in the Kingdom of Saudi Arabia suited deployment of Solar Systems' CPV technology.
"The Kingdom of Saudi Arabia has a high Direct Normal Irradiance (DNI), very high average daily temperatures and negligible cloud cover, making it well-suited to Solar Systems' technology," Dr Goldsworthy said.
"There are significant opportunities to develop solar projects in Saudi Arabia."
"Interestingly, KA CARE will also be responsible for the roll-out of a significant nuclear power program under plans to build 18GW of nuclear generating capacity, or around 16 large nuclear power plants. This is positive for our foundation technology, the SILEX laser uranium enrichment process, being commercialised by GE-Hitachi Global Laser Enrichment in the US."
In relation to the Nofa Project, Solar Systems' CEO Chris Murray said: "We are looking forward to building on this cornerstone project in Saudi Arabia as it progresses with what is arguably the world's largest solar power investment program, further details of which are expected to be released in the coming months."
"The commercial deployment of the technology at the Nofa facility broadens our exposure in the key Middle Eastern markets and establishes our unique CPV technology in a different setting to Australia. The performance of the Nofa plant will be monitored to further optimise our unique solar CPV technology. We also wish to acknowledge the invaluable support of the Nofa Equestrian Resort, owned by His Highness, Prince Sultan Bin Mohammed Bin Saud Al Kabeer and of project partners Al Khafrah Group Holdings and its associates, chaired by Sheikh Mubarak Al Khafrah."
KA CARE officials recently visited the site and have taken a keen interest in the operation of the Nofa solar plant.
The Nofa solar power facility is now supplying clean energy into Nofa's internal grid. An official opening is planned for June 2014.
Further information on the Company's activities can be found on the Silex website: www.silex.com.au
Featured Product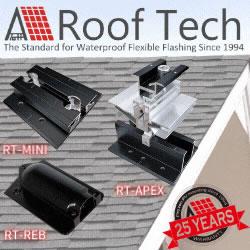 Now Roof Tech brings you the most innovative, watertight mounting systems ever developed for solar photovoltaic systems. Designed and manufactured exclusively for us by Japan's longtime leader in roofing technologies, Roof Tech products are 100% code-compliant and offer fast, simple installation and huge savings on shipping costs due to their compact, rail-less design. Learn more about our full line of versatile PV mounting solutions now available for residential installations. The next generation in rooftop solar mounting solutions."