Will supply approximately 80 percent of the campus power needs.
DANBURY, Conn., May 1, 2014 -- FuelCell Energy, Inc.

(Nasdaq:FCEL), a global leader in the design, manufacture, operation and
service of ultra-clean, efficient and reliable fuel cell power plants,
announced the development of a project to install a 1.4 megawatt (MW) fuel
cell power plant at the University of Bridgeport that will supply
approximately 80 percent of the campus power needs.
On-site power generation provides energy security and power reliability to
the University operations as the fuel cell power plant will operate as a
micro-grid, capable of operating independently from the electric grid. The
ultra-clean emission profile of the fuel cell power generation advances the
sustainability goals of the University.
FuelCell Energy will install, operate and maintain the plant, which is
expected to be operational by the end of 2014. The University of Bridgeport,
a private institution with total enrollment of about 4,800 students and
located in Bridgeport, Connecticut, will purchase the electricity and heat
under a multi-year power purchase agreement.
"Sustainable and affordable energy is an increasingly important component of
the new energy mix at the University of Bridgeport," said Neil Albert
Salonen, President, University of Bridgeport. "Our Renewable Energy Research
Lab evaluates technologies in energy conversion, utilization and storage in
fuel cells, solar, wind, and hybrid systems. This lab is motivated by the
strong need to prepare the next generation of inter-disciplinary engineers
with a comprehensive background in sustainable energy and this fuel cell
installation will help us achieve our goals by enabling us to practice what
we teach."
"We are pleased to be providing the University of Bridgeport with an on-site
power generation solution that meets their financial returns and
sustainability goals and enhances campus energy security," said Chip
Bottone, President and Chief Executive Officer, FuelCell Energy, Inc.
"Universities are ideal candidates for our ultra-clean and efficient fuel
cell power plants due to their power usage profile that requires baseload
power, desire for sustainable power generation, need for energy security,
and demand for reliability that on-site power generation provides."
The University will benefit from the plant's combined heat and power
(CHP) capabilities as the same unit of fuel generates both ultra-clean power
and usable high quality heat. By reducing usage of combustion based boilers
for heat, the University will enjoy cost savings and a reduction in
pollutants and CO2 emissions from the existing boiler. The heat will be used
to generate hot water for heating the University recreation center, a
dormitory and campus apartments. The project enhances the campus micro-grid
with capital improvements to the University power infrastructure and the
ability of the fuel cell power plant to continue to provide power to the
campus should the utility grid experience an extended outage.
Since the fuel cell power plant generates power without combustion, its
exhaust is virtually pollution-free. Compared to the electric grid, the fuel
cell installation will annually avoid the emission of 28 tons of
smog-producing nitrogen oxide (NOx), 64 tons of sulfur dioxide (SOx) that
causes acid rain, 3000 pounds of particulate matter (PM10) that can
aggravate asthma, and more than 7,000 tons of CO2, a greenhouse gas, which
is equivalent to removing more than 1,000 cars from the road.
This project is part of the state of Connecticut's Low-emission Renewable
Energy Credit (LREC) program that supports the adoption of environmentally
friendly and affordable distributed power generation and reinforces State
and local level energy policies and goals.
Participants receive renewable energy credit payments for each megawatt hour
of power produced due to the high efficiency and the virtual lack of
pollutants from a fuel cell power plant.
FuelCell Energy is undertaking this project development and expects to close
on permanent financing on or before the commercial operation date of the
power plant. The University of Bridgeport has entered into a multi-year
power purchase agreement to buy the electricity and heat produced by the
fuel cell power plant.
Fuel cells electrochemically convert a fuel source into electricity and heat
in a highly efficient process that emits virtually no pollutants due to the
absence of combustion. The Direct FuelCell(r) (DFC(r)) stationary fuel cell
power plants manufactured by FuelCell Energy utilize carbonate fuel cell
technology and provide continuous baseload power located where the power is
used, including both on-site applications and electric grid support. The
combination of near-zero pollutants, modest land-use needs, and quiet
operating nature of these stationary fuel cell power plants facilitates
locating the power plants in urban locations. The power plants are fuel
flexible, capable of operating on natural gas, on-site renewable biogas, or
directed biogas.
About FuelCell Energy
Direct FuelCell(r) power plants are generating ultra-clean, efficient and
reliable power at more than 50 locations worldwide. With more than
300 megawatts of power generation capacity installed or in backlog, FuelCell
Energy is a global leader in providing ultra-clean baseload distributed
generation to utilities, industrial operations, universities, municipal
water treatment facilities, government installations and other customers
around the world. The Company's power plants have generated more than two
billion kilowatt hours of ultra-clean power using a variety of fuels
including renewable biogas from wastewater treatment and food processing, as
well as clean natural gas. For more information, please visit
www.fuelcellenergy.com
Featured Product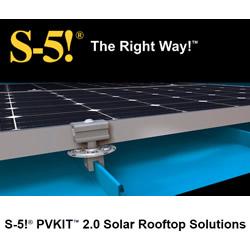 The concept of combining PV arrays with standing seam metal roofing is growing-for good reasons. Metal roofs have a life expectancy of more than 40 years. Shouldn't the mounting system last as long? With S-5! zero-penetration attachment technology and PVKIT 2.0, the solarized metal roof is the most sustainable system available -and without compromising roof warranties! PVKIT 2.0 is the also the best solution for attaching PV modules directly to any exposed fastener metal roof.