Biomass supply-chain innovator improves switchgrass harvesting techniques and quality during 2013-14 harvest season
VONORE, Tenn. May 1, 2014 –Genera Energy Inc., a recognized leader in biomass feedstock supply advancements, has announced a 14 percent reduction in harvest costs utilizing Genera's recently demonstrated in-field harvesting operations when compared to similar operations using typical field-edge systems.

On the receiving end, unload time for bulk harvested material improved 21 percent over the previous harvest, averaging eight minutes and 16 seconds. The fastest unload time was five minutes.
The company used state-of-the-art self-propelled field harvesters to harvest, handle, and move feedstock, introducing crop harvesting improvements that could revolutionize large-scale biomass production. The new processes included a commercially-viable method to bulk harvest biomass crops using existing and new technologies, and in-field chopping with forage harvesters.
"We are very pleased with the results of this harvest," said Kelly Tiller, Ph.D., CEO and president of Genera Energy. "Through research, development and field-testing on a smaller scale, we knew these new operations and logistical innovations had the potential to offer a vast improvement over current biomass harvesting techniques. However, the launch of our new in-field harvesting systems were far more successful than we expected, well above comparable baseline measurables."
Genera Energy was able to not only reduce harvesting time in the field, but its systems also improved the quality of delivered product. For instance: switchgrass, especially chopped switchgrass, is known to handle, flow, and store optimally at lower moisture levels. During this harvest, switchgrass moisture content averaged 13.66 percent, with late harvests coming in as dry as 9.06 percent.
"We've proven that our biomass in-field harvesting and supply chain solutions reduce both cost and variability while increasing product quality," said Lance Stewart, Supply Chain Manager for Genera Energy. "That appeals to all of our downstream customers who make use of biomass feedstocks. We're committed to develop and deliver new solutions making production, harvest, and storage of biomass crops more efficient and cost effective across the supply chain, while offering the highest quality available in the market."
About Genera Energy, Inc.
Genera Energy Inc. supplies biomass feedstocks for the advanced biofuels, biopower, and biochemical industries, offering customized biomass supply solutions ranging from full service energy crop production and turnkey supply chains to managing biomass supply as a service. Genera's proprietary Supply ASSURE™ feedstock management system and its BIN-SPEC™ material handling and milling system offer Genera's customers maximum feedstock reliability and quality while minimizing variability and cost. Based in Vonore, Tenn., Genera operates the country's largest and most comprehensive industrial biomass management and processing facility. Focus on innovation and sustainability in delivering industrial biomass supply systems has earned Genera the World's Biofuels Market's prestigious 2013 Sustainable Feedstock Innovation Award. For more information, visit http://www.generaenergy.com.
Featured Product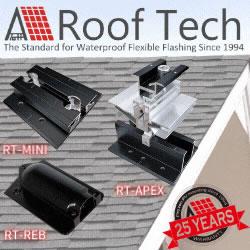 Now Roof Tech brings you the most innovative, watertight mounting systems ever developed for solar photovoltaic systems. Designed and manufactured exclusively for us by Japan's longtime leader in roofing technologies, Roof Tech products are 100% code-compliant and offer fast, simple installation and huge savings on shipping costs due to their compact, rail-less design. Learn more about our full line of versatile PV mounting solutions now available for residential installations. The next generation in rooftop solar mounting solutions."