One 10 kW Unit Installed at Hyatt Place Portland-Old Port Hotel in Maine
Adairsville, GA (May 5, 2014) – YANMAR America Corporation is pleased to announce that Mack Energy Systems, a division of Mack Boring & Parts Company, recently installed one of its CP10WN units at the new 130-room Hyatt Place Portland-Old Port Hotel in Portland, Maine.

The customer chose micro Combined Heat and Power (mCHP) as the building's source for electricity and hot water for guest showers and laundry facilities due to the high efficiency rate of the equipment; they chose YANMAR's product specifically due to the brand's excellent reputation and reliable service network. In addition to mCHP, the new hotel features compact fluorescent lighting, and the owner plans to take advantage of the Efficiency Maine program, which offers cash incentives to reduce the upfront cost of projects that help homeowners and businesses use electricity more efficiently.
YANMAR's CP10WN units are one of two current U.S. approved energy systems solutions from the 100-year-old diesel engine company. The CP10WN, which runs off of propane or natural gas, provides 10 kilowatts of electrical output along with recovered heat for generating hot water with an efficiency rate of 88 percent. YANMAR's other U.S. EPA approved mCHP product is the CP5WN, a 5 kilowatt unit with an 84 percent efficiency rate.
Mack Energy Systems has been a partner of YANMAR's Energy Systems division for several years. The dealer provides YANMAR'S energy solutions to residents and small business, and handles the entire project from start to finish including project planning and design, installation and routine maintenance.
To learn more about Mack Boring & Parts Company, visit www.mackboring.com. For more information on YANMAR America, visit us.yanmar.com.
About YANMAR America Corporation:
Based in Adairsville, GA, YANMAR America Corp. is a subsidiary of YANMAR Co., Ltd. – which recently celebrated its 100th year of operation. YANMAR America is a recognized global leader in the design and manufacturing of advanced performance diesel engines and diesel-powered equipment for a multitude of market segments including marine and industrial engines, compact tractors, compact construction equipment and energy systems. YANMAR Co. Ltd., was established in 1912 and in 1933 became the world's first manufacturer to develop a practical small diesel engine. Over the last 80 years, YANMAR has been a manufacturer of world-renowned diesel engines, energy systems and agricultural, construction, industrial machinery. With global headquarters in Osaka, Japan, YANMAR is well recognized for the unsurpassed quality of its products. Its North American headquarters is located at 101 International Parkway, Adairsville, GA 30103. For more information, please visit us.YANMAR.com.
# # #
Featured Product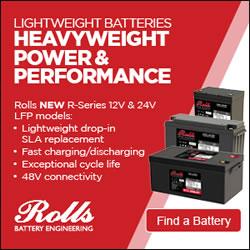 Designed for true drop-in replacement, Rolls new R-Series 12V & 24V LFP lithium models offer a maintenance-free lightweight flooded and SLA alternative in four popular BCI case sizes with fast charge/discharge capability. Rolls custom built-in BMS provides all necessary operating protections for safe operation and seamless integration for deep cycle replacement in 12V, 24V or 48V systems.