At http://store.proinso.net/usa/, buyers can purchase solar products from leading brands 24/7 in only five simple steps.
PROINSO has launched Click and Collect, a new sales service in the USA, readily available online at http://store.proinso.net/usa/. Click and Collect is a secure business platform with a wealth of advantages. With this new service, trade members and individuals based all over the USA can buy PV solar products from the leading brands.

Advantages: 24/7 availability and user-friendly platform which allows one to complete purchases in just 5 simple steps. Flexible logistics with over 200 collection points across the country for buyers to choose from giving the installer a state and US wide logistic platform, and zero cost local storage (will be held for 5 days free of charge at collection point). PROINSO reduced delivery time to 4-6 business days (Alaska, Hawaii, and Puerto Rico will have various delivery times) and being held at collection points increases the installers control confident that goods are local and ready for install to take place-so always avoiding wasted labour costs due to late delivery.
"SMA is excited for the launch of Proinso Click and Collect in the USA. Proinso's Click and Collect is innovative in adding significant value in distribution and bringing benefits to the installer and ultimately the end consumer. This is further evidence of the industries evolution in willingness to tackle key issues and striving for retail convenience, better cash flow and reduction of fixed costs "explains Henry Dziuba, President and General Manager, SMA America.
Benefits of using Click and Collect include avoiding storage costs, delivery fees, full payment in advance and increase control. Cash flow is king and so only 20 % is paid in advance, the remaining 80 % is due when the installer receives notification and is ready to collect the goods locally-potentially the day the installation takes place. If you have credit terms the payment period starts from local collection day.
The new PROINSO online sale platform available in the USA offers solar products from leading brands such as SMA, Canadian Solar, ReneSola, Solar World, Jinko Solar, Lightway and Mounting Systems.
In addition, product availability is updated regularly; new products are added as they are released and costs reflect competitive market prices.
Five simple steps
The Click & Collect service consists of five simple steps:
The customer selects and adds products to the cart.
The customer selects a collection point from the 200 locations available.
The customer pays 20% of the order using secure payment.
Before picking up the order, the customer pays the balance due and receives an email confirmation.
The customer collects the items they purchased at their pick-up point of choice.
With Click & Collect, PROINSO intends to strengthen its position in the American solar PV market, with already established 392 Qualified Installers in its US Network.//
Featured Product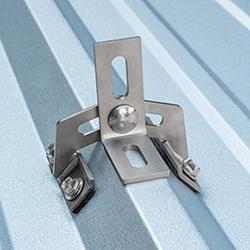 They have been changing the game for 10 years with their original Top Mount line for Asphalt Shingle roofs, and by now supplying one of the widest ranges of solar mounts in North America. From their patented products, to the custom production services they offer, QuickBOLT has been working with solar installers for nearly a decade to make solar installations easier than ever before.