Organics-to-waste facility to begin producing clean energy in summer of 2015
EVEN YEHUDA, Israel, May 7, 2014 -- Bluesphere Corp. (the "Company" or "Bluesphere"), a clean energy company that develops, manages and owns waste-to-energy projects, announced today commencement of detailed design and engineering work for its 5.2 megawatt (MW) waste-to-energy project in Charlotte, North Carolina. This detailed design and engineering work, which is expected to take about two months, is the first stage of project execution, launching the project in full force. This will be followed by work onsite.

"This is an incredible milestone in the development of this project. From today and onward, there will now be constant activity on the project until it starts producing power in the summer of 2015," stated Bluesphere CEO Shomi Palas. "We have started the project on time and will produce and deliver power on schedule. This facility is a model for future Bluesphere projects."
Bluesphere is the project owner, developer and manager for this 5.2 MW organics-to-energy anaerobic digester. The facility will intake organic waste such as food and farm waste that would normally go into landfills. The organic waste is processed in an anaerobic digester to emit biogas, which then is turned into electricity and compost is a by-product. The facility generates revenues from intake of organic waste, as well as the sale of clean, renewable electricity, and the sale of compost.
A Fortune 50 company has signed on to provide $13.8 million in debt project financing for the facility and a leading environmental finance fund will provide equity project financing of $9.1 million,. One of the largest power holding companies in the U.S. has a signed a long-term contract with Bluesphere to purchase electricity generated at the Charlotte plant. Compost, which is a by-product of the organics-to-energy generation process, will be purchased under a contractual agreement, by one of the largest privately held composting companies in the world.
Blue Sphere is developing its second U.S. organics-to-waste facility in Rhode Island and by 2018 the Company plans to have 11 facilities built with 6 more under construction and development.
Waste-to-energy is one of the fastest growing segments in the renewable energy markets. According to SBI Energy, the thermal and biological segments reached $6 billion in 2012 and will reach $29 billion by 2022.
About Bluesphere Corporation
Bluesphere Corporation is a company in the cleantech sector as a waste-to-energy project integrator. Bluesphere develops waste-to-energy and other renewable energy projects. The Company aspires to become a key player in the global waste-to-energy and renewable energy markets. For further information please visit the Company's website www.bluespherecorporate.com
Featured Product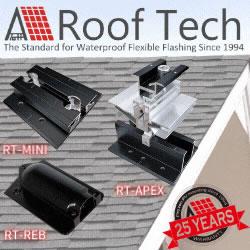 Now Roof Tech brings you the most innovative, watertight mounting systems ever developed for solar photovoltaic systems. Designed and manufactured exclusively for us by Japan's longtime leader in roofing technologies, Roof Tech products are 100% code-compliant and offer fast, simple installation and huge savings on shipping costs due to their compact, rail-less design. Learn more about our full line of versatile PV mounting solutions now available for residential installations. The next generation in rooftop solar mounting solutions."