Carroll Wind Farm will consist of nine 2.3-megawatt geared turbines ---- Commissioning expected in early 2015 ---- Includes service and maintenance agreement
With another order announcement in the U.S., Siemens Energy continues its success in the Americas wind market. The Carroll wind power plant will be located in western Iowa near the city of Carroll, and will consist of nine 2.3-MW geared wind turbines. The customer is Carroll Area Wind Farm LLC, a company of NJR Clean Energy Ventures. Installation of the Siemens SWT-2.3-108 wind turbines is scheduled to begin in October, and commissioning is expected in early 2015.

The SWT-2.3-108 turbine features enhanced reliability and productivity in low to moderate wind speeds. With 108-meter rotors, the turbines provide optimized power output for the site-specific wind conditions in western Iowa. The contract also includes a service and maintenance agreement. Siemens will produce the major wind turbine components at Siemens' production facilities in the U.S.
"We look forward to working with NJR Clean Energy Ventures on this project in Iowa," says Mark Albenze, CEO of Siemens Energy's Wind Power Onshore Americas business. "All of the blades will be manufactured at our nearby Fort Madison, Iowa, facility, and all nacelles and hubs for this project will be assembled at our factory in Hutchinson, Kansas. This order is further evidence that the federal production tax credit continues to boost new economic investment in the U.S. and encourages development of proven renewable energy projects."
Wind power and energy service are part of Siemens' Environmental Portfolio. Around 43 percent of its total revenue stems from green products and solutions. That makes Siemens one of the world's leading providers of eco-friendly technology.
Featured Product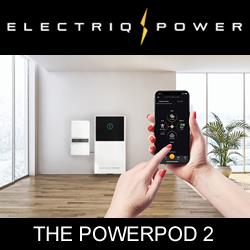 The Electriq PowerPod 2 is a fully-integrated home energy storage, management, and monitoring system powered by LFP batteries. The high-performance, cobalt-free product includes a hybrid solar/battery inverter controlled by intelligent software. The PowerPod 2 provides backup power and can self-consume or export excess power back to the grid.