1,000+ GE 1.5-77 Turbines Harnessing Wind PowerUp*; Helping Boost up to 5 Percent AEP ----Platform Continues to Improve AEP for Existing Global GE Fleet
WINDPOWER 2014

LAS VEGAS--GE's (NYSE:GE) renewable energy business announced that its Wind PowerUp* platform has secured more than 1,000 units under contract to date. PowerUp, a GE Predictivity™ solution, is a customized software-enabled platform that allows wind farm operators to increase annual energy production (AEP) on their turbines by up to 5 percent, taking into account environmental conditions. A 5 percent increase in energy output translates to up to a 20 percent increase in profit per turbine. GE made the announcement during AWEA WINDPOWER 2014, taking place May 5-8, in Las Vegas.
"The industry's response to Wind PowerUp has been exciting to see over the past seven months," said Anne McEntee, president and CEO of GE's renewable energy business. "We have been working with our customers to develop customized solutions ideal for their fleet and working with them in new ways that helps them win."
PowerUp adjust performance dials, including speed, torque, pitch, aerodynamics and turbine controls with the goal of maximizing the power output of a wind farm. Today, GE introduced its GE Predictivity wind plant wake management software capabilities for wind turbines to mitigate wake loss at the farm or plant level. This capability is a part of GE's brilliant wind platform and will be incorporated into PowerUp in the coming year.
The more than 1,000 wind turbines with PowerUp translate to a potential 194 gigawatt hours of additional energy per year. Leading industry power producers such as E.ON and EDPR are some of the first to adopt the PowerUp platform and see improvements to the bottom line across their fleets.
GE's brilliant wind platform harnesses the power of the Industrial Internet to analyze tens of thousands of data points on a wind farm every second, driving higher power output and creating new revenue streams for customers. PowerUp is a Predictivity technology and is an ecomagination qualified product.
To view a video on PowerUp, click here.
About GE
GE (NYSE: GE) works on things that matter. The best people and the best technologies taking on the toughest challenges. Finding solutions in energy, health and home, transportation and finance. Building, powering, moving and curing the world. Not just imagining. Doing. GE works. For more information, visit the company's website at www.ge.com.
About GE Power & Water
GE Power & Water provides customers with a broad array of power generation, energy delivery and water process technologies to solve their challenges locally. Power & Water works in all areas of the energy industry including renewable resources such as wind and solar; biogas and alternative fuels; and coal, oil, natural gas and nuclear energy. The business also develops advanced technologies to help solve the world's most complex challenges related to water availability and quality. Power & Water's six business units include Distributed Power, Nuclear Energy, Power Generation Products, Power Generation Services, Renewable Energy and Water & Process Technologies. Headquartered in Schenectady, N.Y., Power & Water is GE's largest industrial business.
Follow GE Power & Water and GE's renewables business on Twitter @GE_PowerWater and @GErenewables
Featured Product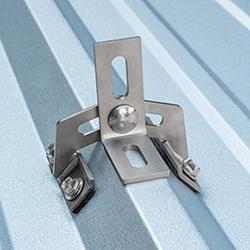 They have been changing the game for 10 years with their original Top Mount line for Asphalt Shingle roofs, and by now supplying one of the widest ranges of solar mounts in North America. From their patented products, to the custom production services they offer, QuickBOLT has been working with solar installers for nearly a decade to make solar installations easier than ever before.