Local solar integrators Columbia Construction and Absolute Green Energy complete 644,000 kWh/year roof-top project---- U.S. Congressman John F. Tieney (D) 6th District Massachusetts and Consulate General of Japan in Boston, Akira Muto to attend ribbon-cutting ceremony today; Massachusetts Governor Deval Patrick sends Greeting Letter
BEDFORD, Mass.--In an effort to reduce costs while contributing to a corporate commitment to sustainability, FUJIFILM Recording Media U.S.A., Inc. has constructed a solar energy installation through efforts by local clean-energy integrators Columbia Construction Company (North Reading, Mass.) and Absolute Green Energy Corporation (Worcester, Mass.) on its Bedford, Massachusetts manufacturing facility. It is Fujifilm's third solar energy installation in the United States. With 1,870 modules, the solar array will produce about 644,000 kWh annually, which is equivalent to a reduction of 444 metric tons of carbon dioxide per year. Over 20 years, this would equal the carbon sequestered by 7,280 acres of U.S. forest in one year, or nearly 21 million miles driven by average passenger vehicles.

The three companies will celebrate the project completion with a ribbon cutting event taking place today at Fujifilm's facility in Bedford, featuring special guests: U.S. Congressman John F. Tierney (D) 6th District Massachusetts; Consulate General of Japan in Boston, Akira Muto; Bedford Town Manager, Richard Reed and Bedford Selectman, Caroline Fedele; and representatives from the Town of Burlington.
"I'm pleased to join Fujifilm today at the ribbon-cutting ceremony for a solar energy installation, and I commend them for their commitment to clean energy and sustainability for themselves and our communities," said Congressman John Tierney.
The event will also feature comments from Massachusetts Governor Deval Patrick, who wrote in a Greeting Letter, "Clean energy technology is central to our economic development strategy in Massachusetts, and our success in solar power is a prime example of that. We are using all the levers at our disposal to make solar power an option for residents, businesses, and institutions. Together, we must continue to choose growth and invest in a sustainable tomorrow in order to grow our economy and preserve the Bay State we call home."
With this installation, Fujifilm will realize a substantial cost savings on its current energy usage. In addition, the company will be able to take advantage of the utilities net energy metering program that provides ongoing benefits. Globally, Fujifilm has a Greenhouse gas target set at 30 percent reduction in CO2 emissions by Fiscal Year 2020, as compared to 2005.
"This represents a great opportunity for Fujifilm to make significant progress, and help contribute to our global corporation's overall mission of energy conservation and greenhouse gas reduction," said Peter Faulhaber, president, FUJIFILM Recording Media U.S.A., Inc. "By collaborating locally at our Bedford facility with Absolute Green Energy and Columbia Construction, we will utilize an affordable, clean, and renewable energy solution and continue to make strides toward our energy goals."
"This project speaks for itself. The new Fujifilm rooftop solar array will generate more than 15 million kilowatt hours of electricity over its lifetime while producing zero carbon emissions," said Chris McCarthy, vice president, manager, Columbia Energy, Columbia Construction Company. "It will also reduce the global demand for fossil fuels. We are proud of the quality of the new Fujifilm solar electric system, and the contribution it will make to renewable energy goals in Massachusetts. We are also delighted to be part of the Fujifilm Project team."
"We very much appreciate Fujifilm's commitment to sustainable business practices and we are delighted to be a part of the local team helping Fujifilm to achieve their energy conservation and green gas reduction goals," said Mike Ortolano, president, Absolute Green Energy Corporation.
About Fujifilm
FUJIFILM Recording Media U.S.A., Inc. is the US-based manufacturing, marketing and sales operations of professional broadcast video and data tape recording media for FUJIFILM Corporation. The company provides broadcast and data center customers and industry partners with a wide range of unique data center accessories, value-added services and archival solutions, including Dternity. Based on a history of thin-film engineering and magnetic particle science such as Fujifilm NANOCUBIC technology, Fujifilm creates breakthrough data storage products. In 2013, Fujifilm surpassed the 100 million milestone for the number of LTO Ultrium data cartridges manufactured and sold since introduction, establishing the company's leadership and success as the leading global manufacturer of mid-range and enterprise data tape. For more information on Fujifilm Recording Media products, customers can call 800-488-3854 or go to www.fujifilmusa.com/tape_data_storage. To receive news and information direct from Fujifilm via RSS, subscribe free at www.fujifilmusa.com/rss.
FUJIFILM Holdings Corporation, Tokyo, Japan, brings continuous innovation and leading-edge products to a broad spectrum of industries, including electronic imaging, digital printing equipment, medical systems, life sciences, graphic arts, flat panel display materials, and office products, based on a vast portfolio of digital, optical, fine chemical and thin film coating technologies. The company was among the top 10 companies around the world granted U.S. patents in 2012, and in the year ended March 31, 2013, had global revenues of $26.7 billion*. Fujifilm is committed to environmental stewardship and good corporate citizenship. For more information, please visit www.fujifilmholdings.com.
* At an exchange rate of 83 yen to the dollar.
About Columbia Construction
Today, Boston-based Columbia Construction, with an annual volume of $160 million, is ranked as the 7th largest construction management firm in Massachusetts by the Boston Business Journal. Columbia Construction's diverse portfolio of projects spans the academic, corporate, life sciences, healthcare, and hospitality sectors throughout the Northeast and Washington D.C. Columbia Construction is a third-generation construction management company. We have accomplished steady and thoughtful growth since Sam Lilly founded the company in 1925. Our company's emergence as a respected industry leader over the past 89 years is the result of a culture built on integrity. We strive to listen, understand and work side-by-side with our clients to provide quality construction and to produce exceptional results. For more information, please go to: www.columbiacc.com.
About Absolute Green Energy Corporation
Absolute Green Energy Corporation is focused on providing cost effective energy saving solutions and renewable energy systems (solar electric) for commercial and industrial facilities. The company partners with local contractors for the installation process, strengthening the local economy. Absolute Green Energy provides technical expertise in renewable energy that is built on many years of supplying energy efficient machinery and energy saving products. The company is supported by the technical, financial, and operational resources of the "Absolute group." Founded in 2008, Absolute Green Energy is located in Worcester, Massachusetts. For more information, please go to: www.absolutegreenenergy.com.
Featured Product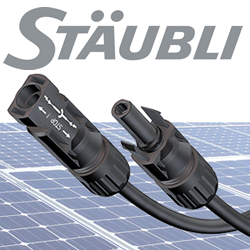 ​Stäubli Electrical Connectors are used on more than 300 GW, over 50% of the PV capacity worldwide. The MC4 family of UL and TUV listed products include connectors, in-line fuses, branch connectors, cable assembly and more.