The ArrayGuard® CP compact model comes with the essential measurement, switching and protection functions fully integrated at no additional cost.
The new ArrayGuard® CP combiner boxes have been designed to meet the demand for highly power-efficient BOS components in utility-scale photovoltaic installations. Berlin-based skytron® energy is a renowned supplier of high quality monitoring, control and supervision systems to the renewable energy sector. Its product range includes the well-established ArrayGuard® combiner-box series for PV systems, first launched in 2006.

This 1000 VDC ArrayGuard® component family has now been expanded to include a redesigned smart combiner box for utility-scale PV applications. Its neatly arranged interior layout and compact light-weight design makes the new ArrayGuard® CP model particularly efficient with respect to power dissipation. This in turn ensures reliable operation even at outdoor operation temperatures from -40 to +50 degrees centigrade and altitudes of up to 4000m above mean sea level. The new ArrayGuard® CP models offer an outstanding price/performance ratio whilst preserving the reliability that this product's reputation has been built upon.
The ArrayGuard® CP compact model comes with the essential measurement, switching and protection functions fully integrated at no additional cost.
- Efficient DC connection of up to 24 strings
- Operational safety provided by integrated DC load disconnector
- Real-time string current monitoring at 100 ms scan intervals and acquisition of 1-minute mean values, using reliable shunt measurement techniques with high temperature-stable measurement precision of 0.5%
- Reliable string protection provided by gPV plug-in fuses for both PV+ and PV-
- Adaptable surge protection, using Combi Type 1+2 to handle direct strike currents, or Type 2 to handle indirect strike currents, compliant with local lightning protection standards
- Industry-standard data communication based on CAN fieldbus technology
- Fully integrated monitoring of all critical conditions: tripping of surge protector, on/off status of DC isolator switch, cabinet temperature
- Low cost operation ensured by efficient power management with 24 V dc supply over CAN bus and low power consumption at 1.5 W max.
- Optimised cabinet layout providing efficient heat dissipation and prevention of condensation in humid climates
- Long service life outdoors ensured by rugged cabinet design using UV-resistant polyester material
- Straightforward installation, DC connection and maintenance provided by optimised mounting kit, clear terminal fixings, and easily replaceable plug-in string fuses
- Spacious allowance for flexible DC main cables, suitable for large cable cross-sections and different connection methods, e.g. lugs, box terminals, double DC main cables
skytron energy's expanded ArrayGuard® combiner series is highly adaptable to accommodate additional functions such as remote OFF for additional fire safety on rooftop installations, external DC isolator switch mounted on the front panel, 1500VDC operation or 32 string inputs, UL certification for the US market.
"Offering highest reliability for a motivating price, ArrayGuard® CP will not only have a positive effect on general BOS costs, but will particularly benefit solar projects in tough-temperature and high-altitude zones", declares Torsten Schlaaff, the company's Head of Hardware R & D. "Displayed in our PVGuard® supervision platform, intelligent ArrayGuard® combiner boxes facilitate high-resolution analysis of string and plant performance and thorough plant diagnostics, which after all is vital for efficient O&M work, maximum plant uptime and optimum yield".
For further information on skytron's ArrayGuard® smart combiner boxes, please contact sales@skytron-energy.com
About skytron energy
skytron energy has been developing integrated monitoring, control and supervision systems since 1977. Now one of the leading suppliers in the industry, specializing in utility-scale and commercial power plants, it has installed monitoring and control systems in more than 600 plants with a total capacity of 5 GWp. The company's core competencies are plant condition monitoring, power plant control, remote plant supervision, system migration of existing power plants, operation & maintenance, and PV asset management. skytron energy is headquartered in Berlin, Germany. As a technology leader, skytron energy has received a number of prestigious awards, such as the highly coveted InterSolar Award for the "PVGuard" Supervision Platform and for the "StringGuard" string current measurement system.
Featured Product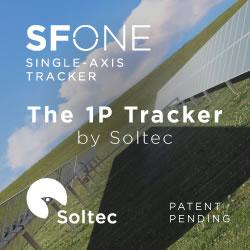 SFOne is the 1P single-axis tracker by Soltec. This tracker combines the mechanical simplicity with the extraordinary expertise of Soltec for more than 18 years. Specially designed for larger 72 an 78 cell modules, this tracker is self-powered thanks to its dedicated module, which results into a lower cost-operational power supply. The SFOne has a 5% less piles than standard competitor, what reduces a 75% the labor time.