The multinational has supplied over 38MWp in horizontal solar trackers in Mexico.
*MECASOLAR is attending the 3rd edition of Solar Power Mexico on 28 and 29 May, the leading solar power event for trade members, which PROINSO is also attending.

*Travelling to Mexico once again this year, MECASOLAR wants to strengthen its presence and consolidate its leadership in a country that has set the goal to have 35% power from renewable sources by 2026.
*Mexico, where MECASOLAR delivered a total 38.5MWp in horizontal single-axis trackers through April 2014, is one of the Latin American markets with the highest number of opportunities for the solar industry.
13 May 2014. The companies in the OPDE Group MECASOLAR and PROINSO will take part on 28 and 29 May in the 3rd edition of Solar Power Mexico, the leading show in the solar power industry to take place in Mexico City. MECASOLAR, a multinational firm specialising in the design and manufacture of solar trackers, fixed structures for ground- and roof-mounted installations, and foundation screws for PV solar farms, is attending the event with the aim to strengthen its leadership in Mexico.
This country has set the goal to increase renewable energy generation to 35% by 2026. Currently, it is one of the Latin American countries with the most opportunities for the solar industry.
For this reason, MECASOLAR is travelling to Mexico with the aim of bringing closer to this North American market some of its solutions, such as the horizontal single-axis tracker, whose supplies to solar projects in the country amounted to 38.5MWp through April 2014.
According to MECASOLAR sources, the 144kWp horizontal single-axis tracker is a modular, low-height structure characterised by simple assembly and higher output, and requiring no welding on location, which means higher return on investment for solar PV projects.
A number of variants of this tracker were launched in 2012 and sold very well around the world, Mexico included. This tracker can have up to 12 axes moved by a single motor, and each axis can carry up to 48 modules, 11.6kW per axis. This means that each horizontal tracker with a single motor can reach a power of 144kWp and a solar panel area of 960m2.
To date, MECASOLAR has manufactured and delivered 400MW in solar trackers and structures to solar PV plants in more than 40 countries in all five continents.
ABOUT MECASOLAR / www.mecasolar.com
MECASOLAR specialises in the design, manufacture and supply of dual-axis and horizontal, azimuth or polar-aligned single-axis trackers, fixed structures for ground- and roof-mounted solutions, and MECASCREW foundation screws for PV solar facilities.
ABOUT PROINSO / http://www.proinso.net
PROINSO specialises in the supply of PV modules, solar kits, inverters, structures and solar trackers, batteries and chargers, solar solutions for urban applications in public areas, vehicle recharging stations, self-consumption installations, stand-alone PV power systems and monitoring systems
Featured Product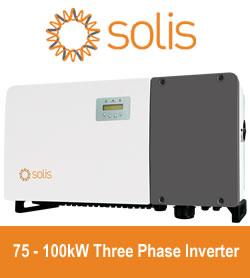 Solis75kW - 100kW series high-power string inverters are widely used in industrial and commercial rooftops. Solis's new three-phase string inverter is the first choice for industrial and commercial photovoltaics. 75-100kW three phase series string inverter have Maximum 28 strings input, support "Y" type connection in DC side. Maximum string input current 13A, support bifacial modules access.Supports anti-PID function to improve system efficiency.