Distributed wind industry urges Senate to pass the EXPIRE Act and restore stability to the distributed wind market place.
"The U.S. Senate has a huge opportunity to support American business and innovation this week. Distributed wind power is a true American small business success story, with 90% of all distributed turbines sold in the U.S. manufactured here. Distributed wind power is generating clean, affordable and homegrown electricity across all 50 states, keeping the lights on and Americans at work. I urge the Senate to pass the EXPIRE act and restore the clean energy tax credits that provide the stability this market needs to continue to thrive," said Jennifer Jenkins, the Executive Director of the Distributed Wind Energy Association, in advance of the Senate debate.

The EXPIRE act includes provisions to extend expired clean energy tax credits including, including the investment tax credit (ITC) for distributed wind (ITC) through 2015, retroactive to the beginning of this year.
###
About the Distributed Wind Energy Association
The Distributed Wind Energy Association is a collaborative group comprised of manufacturers, distributors, project developers, dealers, installers, and advocates, whose primary mission is to promote and foster all aspects of the American distributed wind energy industry. Distributed wind is the use of wind turbines at homes, farm and ranches, businesses, public and industrial facilities, off-grid and other sites connected either physically or virtually on the customer side of the meter to offset all or a portion of local energy consumption or to support grid operations. DWEA seeks to represent members and associates from all sectors with relevant interests pertaining to the distributed wind industry. For more information on DWEA, please go to www.distributedwind.org. Follow us on Twitter @DWEA and like us on Facebook.
Featured Product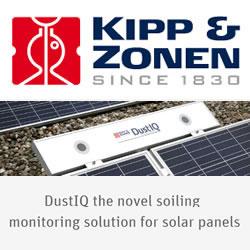 Soiling of the panel glass is one of the major problems in the rapidly expanding solar energy market, with the attendant loss of efficiency and reduction in performance ratios. Now, there's a new, simple and very cost-effective alternative. Based on Kipp & Zonen's unique Optical Soiling Measurement (OSM) technology, DustIQ can be easily added to new or existing solar arrays and integrated into plant management systems. The unit is mounted to the frame of a PV panel and does not need sunlight to operate. It continuously measures the transmission loss through glass caused by soiling, so that the reduction in light reaching the solar cells can be calculated.