Asia-Pacific to account for 90.4% of the world's solar module production in 2014 ----China led both the demand and supply sides of global solar photovoltaic market in 2013, claiming 65% slice, says GlobalData
LONDON, UK (GlobalData), 15 May 2014 - After proving itself as the global solar module production leader in 2013, the Asia-Pacific (APAC) region will continue to hold this position in 2014 with a massive 90.4% of the world's module production, says research and consulting firm GlobalData.

According to Ankit Mathur, GlobalData's Project Manager for Alternative Energy, China led both the demand and supply sides of the global solar photovoltaic (PV) market in 2013, claiming a significant 65% slice. This contrasts highly with the US and Europe, which claimed respective market shares of just 2% and 3%.
Mathur says: "Significant and ongoing growth in solar PV market demand is powering the increase in global module production, which we expect to rise from 40,806 megawatts (MW) in 2013 to 45,170MW this year.
"China will account for a significant 30,000MW of this production in 2014, while Japan and South Korea will follow with 3,700MW and 2,400MW, respectively."
China and Japan have predominantly been known as the hubs for module manufacturing, and the switch in PV demand from Europe to APAC has also resulted in the latter region occupying a giant share of the global crystalline module production market last year.
Mathur continues: "China enjoyed a landslide victory in terms of crystalline module production in 2013, after it won a significant 70.4% of the global market.
"The announcement of anti-dumping duties on Chinese module manufacturers, which export solar modules to European markets, has diverted their focus away from exports to increasing sales activities in their own fast-growing domestic market."
The huge rise in solar PV market demand has also reduced global production overcapacity from 151% in 2009 to 62% in 2013, says GlobalData. With this demand expected to grow further in the future, many module manufacturers plan to boost their production capacity in 2014, which will see overcapacity increase again to an estimated 78%.
Featured Product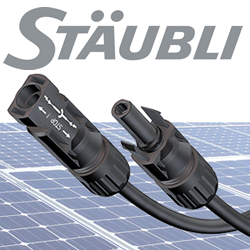 ​Stäubli Electrical Connectors are used on more than 300 GW, over 50% of the PV capacity worldwide. The MC4 family of UL and TUV listed products include connectors, in-line fuses, branch connectors, cable assembly and more.