At Intersolar Europe 2014, TÜV SÜD will showcase its suite of services spanning the entire value chain of the PV industry. In the focus of interest are new services such as certification of inverters and solar storage systems and the launch of Performance Guard (Hall A2, stand 540)
Intersolar Europe will see the debut of TÜV SÜD's Performance Guard, an intelligent tool that allows the owners of photovoltaic installations to monitor the power production of their photovoltaic systems. "Performance Guard is the result of our know-how and our experience in modelling and simulation of PV systems", says Ondrej Vaculin, Business Area Manager Renewable Energies at TÜV SÜD Czech. As a special feature, this innovative tool automatically compares actual power production with theoretical power production, calculated on the basis of meteorological data and with the help of a simulation model. "The target/performance comparison delivers important information about a system's performance reserves and potential for improvement", explains Vaculin. The difference between actual and theoretical power production can be used to quickly identify any technical malfunctions or defects in the systems, which would go unnoticed with standard monitoring systems.

Certification of inverters and solar storage tanks
Critical factors for the economic success of a PV system or solar PV power station are the sites and systems used. By providing comprehensive services that span the entire PV industry, TÜV SÜD's experts provide greater security for investments. For instance, the manufacturers of PV modules and PV components benefit from TÜV SÜD's global presence. The experts offer all tests that are needed for placing products on various target markets and ensuring their success there, including salt spray and ammonia corrosion tests, PID tests, Thresher tests and certification according to the British MCS standard or TÜV SÜD's own Building Integrated Photovoltaic (BIPV) standard.
One of the focal topics at TÜV SÜD's stand at Intersolar Europe 2014 will be the new certificates for PV inverters and solar storage systems. "Inverters are central elements of PV systems and PV power plants", explains Gian Maria Fontolan, expert in the testing of PV inverters at TÜV SÜD Product Service GmbH. "We help designers and manufacturers to ensure that their products are in compliance with all national and international legal requirements." The range of testing services extends from electrical safety, electromagnetic compatibility (EMC), environmental impact, load management and power grid compatibility to the overall performance and efficiency of PV inverters.
At the trade fair TÜV SÜD will also introduce its certification for solar storage systems. The facts that government funds in Germany are increasingly spent on solutions for own consumption and that feed-in tariffs are in decline serve to drive the further development of solar storage systems, and with them the demand for appropriate tests and certificates. TÜV SÜD assists manufacturers with finding appropriate standards and has developed a test programme for solar storage systems, which covers safety and performance tests that can be aligned to the individual requirements of the systems.
Featured Product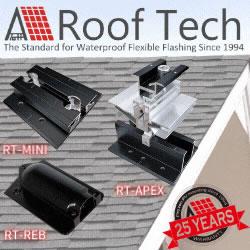 Now Roof Tech brings you the most innovative, watertight mounting systems ever developed for solar photovoltaic systems. Designed and manufactured exclusively for us by Japan's longtime leader in roofing technologies, Roof Tech products are 100% code-compliant and offer fast, simple installation and huge savings on shipping costs due to their compact, rail-less design. Learn more about our full line of versatile PV mounting solutions now available for residential installations. The next generation in rooftop solar mounting solutions."