Underscores TIAA-CREF's Commitment to Environmentally Sustainable Investments
SAN DIEGO--EDF Renewable Energy today announced that TIAA-CREF, a leading financial services provider, will acquire 50 percent of EDF Renewable Energy's equity interest in the 143 megawatt (MW) peak (110 MWac) Catalina Solar project, subject to customary closing conditions.

EDF Renewable Energy will retain the remaining 50 percent stake in the project and continue to provide operations and maintenance services through its EDF Renewable Services affiliate.
Located in California's Mojave Desert, Catalina Solar is comprised of 82 MWp Solar Frontier and 61 MWp First Solar thin film photovoltaic modules generating electricity to serve approximately 35,000 homes. The project's clean energy is provided to San Diego Gas & Electric Company (SDG&E) under a 25-year Power Purchase Agreement.
Catalina Solar represents EDF Renewable Energy's largest utility-scale photovoltaic project and the 6th largest photovoltaic plant in the United States.1
"We are very happy to team up with a strong long-term partner like TIAA-CREF," said Raphael Declercq, EDF Renewable Energy's Director of Divestiture and Portfolio Management. "This sale illustrates our ability to redeploy capital to fund future development while staying deeply involved in existing projects. This is an important aspect of our business model that allows us to further our ambition as a world-class renewable project developer."
"Investing in operational solar energy developments alongside experienced developers and operators is a key part of our natural resources and infrastructure investment strategy," said Lisa Ferraro, Managing Director and Head of Energy & Infrastructure Portfolio Management for TIAA-CREF.
"These investments are a good fit for our long-term investment approach and meet a growing need for environmentally friendly energy sources," said Mario Maselli, Director, Energy & Infrastructure Investments for TIAA-CREF.
TIAA-CREF (www.tiaa-cref.org) is a national financial services organization with approximately $569 billion in assets under management (as of 3/31/14) and is the leading provider of retirement services in the academic, research, medical and cultural fields.
About EDF Renewable Energy:
EDF Renewable Energy is a leading U.S. independent power producer with more than 25 years of expertise in the renewable industry, covering all range of services from project development, management to operations and maintenance. EDF Renewable Energy specializes in wind and solar photovoltaic with presence in other segments of the renewable energy market: biogas, biomass, hydro, marine energy and storage solutions. The company develops, constructs, operates and manages renewable energy projects throughout the United States for its own accord as well as for third parties. EDF Renewable Energy's portfolio consists of 4 gigawatts of developed projects with 1.9 gigawatts of installed capacity. EDF Renewable Energy is the U.S. subsidiary of EDF Energies Nouvelles. EDF Energies Nouvelles is the renewable energy arm of the EDF group, the leading electricity company in the world. For more information visit: www.edf-re.com
Featured Product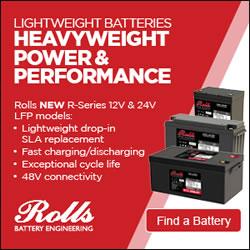 Designed for true drop-in replacement, Rolls new R-Series 12V & 24V LFP lithium models offer a maintenance-free lightweight flooded and SLA alternative in four popular BCI case sizes with fast charge/discharge capability. Rolls custom built-in BMS provides all necessary operating protections for safe operation and seamless integration for deep cycle replacement in 12V, 24V or 48V systems.