TÜV SÜD will showcase its full suite of offshore wind power services at WINDFORCE 2014. The experts support designers, project operators and manufacturers in the offshore wind power industry with comprehensive and customised inspection, certification and inspection services (Hall 5, Stand E 33).
From the first geophysical surveys of the sea bed to power grid connections – the various milestones of offshore wind farms are fraught with project-specific challenges and uncertainties. Many projects off the German coast are proceeding more slowly than planned.

"However, wind-farm projects in Germany cannot be compared to those in other European countries", says Alexander Heitmann, Department Manager Offshore Wind Power at TÜV SÜD Industrie Service GmbH in Hamburg. In Germany, offshore wind farms are typically placed further out in the sea. "Given this, our clients expect very thorough planning and scheduling of our testing and inspection activities, coupled with the flexibility to optimise the offshore processes at the same time", explains Heitmann. Often new methods and concepts are used that have not yet been documented in standards or for which the standards are still under development.
To carry out the planning, construction, commissioning and operation of the offshore wind farm under these extreme conditions, designers, project operators and manufacturers rely on the high level of quality and flexibility that TÜV SÜD offers throughout all project phases. "Our customers and partners have to consider safety requirements and technical risks on the one hand and profitability on the other", explains Alexander Heitmann. "To do so, they need a testing and certification partner that provides flexible and solution-focused services and can help to guide the project to success."
TÜV SÜD's experts cover all phases of offshore projects – from validation of geotechnical surveys, design review, supervision and quality assurance during manufacturing, installation and commissioning to inspections and approval of specialised components. Type certification of wind turbines and certification of entire offshore projects are other focal areas, as are the testing and certification of maritime transport and lifting equipment and offshore sub-stations.
By acquiring PMSS in 2012, TÜV SÜD significantly expanded its portfolio of services in the field of offshore wind power. TÜV SÜD PMSS is a global consulting firm, with an unparalleled record in supporting renewable energy projects drawn from 20 years of front-line project support. TÜV SÜD PMSS is the trusted advisor to some of the world's leading renewable energy businesses and institutions. Providing services and insights to private, public and independent sectors.
TÜV SÜD Presentation during WINDFORCE 2014: National and International Standards for the Design Requirements of Offshore Substations – The Advantages of Certification for Offshore Substations, Malte Lossin, TÜV SÜD Industrie Service GmbH, Offshore Wind Energy Department, Session J on 19 June 2014 between 9:30 am and 1:00 pm.
Featured Product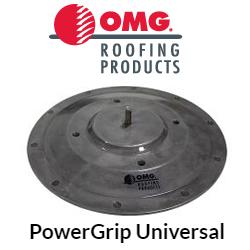 PowerGrip Plus Roof Mount System, a watertight structural attachment system used to secure ballasted solar racks and other equipment to roofs covered with thermoplastic (TPO and PVC) membranes. PowerGrip Plus is designed with wind performance in mind and offers ultimate tensile strength of 2,000 lbf. and ultimate shear strength of 1,075 lbf. Properly installed PowerGrip Plus units reduce rack movement and remaining watertight. PowerGrip Plus units are easy to install, saving both time and labor when compared to alternative options. A wide membrane skirt promotes easy welding in place, and the 15/8 diameter and 1/2 inch tall mount provides an optimal perch for securing brackets or struts. The exposed 1 inch tall and 3/8 inch diameter bolt and mounting stand are made from corrosion-resistant stainless steel and aluminum alloy for superior long-term performance.