WISA in Cape Town, South Africa on May 25-29, 2014
HOUSTON, May 20, 2014 — Dresser-Rand, a global supplier of environmentally friendly technology platforms in distributed power generation for the oil and gas, industrial, institutional, and commercial industries, will showcase its Guascor® biogas engines to visitors attending the Water Institute of Southern Africa (WISA) Biennial Conference & Exhibition 2014.

WISA visitors looking for environmental solutions for waste to energy purposes can visit Dresser-Rand at Stands 52-53-54-55 near Gate 10, to learn about its Guascor natural gas and biogas engines that range from 140 to 1240 kW.
The SFGLD engine series was specifically developed to work with a variety of gases, including natural gas, biogas from landfill, sewage, or anaerobic digestion processes, and gases from biomass gasification processes.
Dresser-Rand's Guascor engines can be equipped with mechanical or electronic carburetion control and are adaptable to any type of low heat value (LHV) gas. They have been successfully tested with product gases from many different sources, including : landfill; waste water treatment plants ; animal manure digestion processes (cow, pig, chicken); farm waste; cassava; starch; wine dredges; palm oil mill effluent (POME); and more.
To learn more about Dresser-Rand and its Guascor biogas engines, stop by Stands 52-53-54-55 near Gate 10 during WISA in Cape Town, South Africa on May 25-29, 2014, or visit www.dresser-rand.com.
About Dresser-Rand
Dresser-Rand is among the largest suppliers of rotating equipment solutions worldwide. The company offers some of the most efficient and, environmentally friendly technology platforms, products and services in distributed power generation for oil and gas, industrial, institutional, and commercial clients and rural electrification programs.
Dresser-Rand solutions include: combined heat and power (CHP) systems, biogas-fueled gen-sets, hybrid systems (solar photovoltaic and engine-based gen-sets), biomass and waste-to-energy steam turbine generators, compressed air energy storage (CAES), and more. Dresser-Rand also develops new technologies that use fossil fuels and renewable energy resources more efficiently, such as its wave energy-based HydroAir™ turbine.
The Company operates manufacturing facilities in the United States, Brazil, France, United Kingdom, Spain, Germany, Norway, and India and maintains a network of 49 service and support centers (including 6 engineering and R&D centers) covering more than 150 countries. Dresser-Rand has principal offices in Paris, France, and Houston, Texas.
Featured Product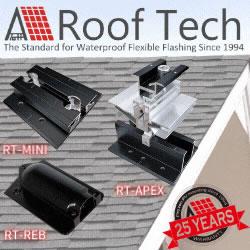 Now Roof Tech brings you the most innovative, watertight mounting systems ever developed for solar photovoltaic systems. Designed and manufactured exclusively for us by Japan's longtime leader in roofing technologies, Roof Tech products are 100% code-compliant and offer fast, simple installation and huge savings on shipping costs due to their compact, rail-less design. Learn more about our full line of versatile PV mounting solutions now available for residential installations. The next generation in rooftop solar mounting solutions."