The new Atlanta Falcons football stadium is expected to cost an estimated $1.2 billion dollars. If a portion of that was dedicated to solar, it would provide all residents of Atlanta with a nice return on investment!
Solar powered sports stadiums have become a trend as of late. In fact, MetLife Stadiu, host to Super Bowl XLVIII, is powered by 1,350 solar photovoltaic (PV) panels!

In the NFL alone there are already 6 solar powered stadiums – The 49ers, Redskins, Jets, Seahawks, Patriots, and Eagles all power their football stadium with solar panels! It would make logical sense for the Falcons to follow suit and power the new stadium in Atlanta with solar, especially sense a number of local solar panel manufacturers and installers are available around the state.
Georgia has been ranked the fastest-growing solar state as well as one of the top 10 states for solar energy production.
Hypothetically, let's say the new Falcons stadium owners decided to install a small commercial system of approximately 100 solar panels (27.5kW). At an estimated net cost of $39,000 dollars, the solar energy system would provide a return on investment (fully pay for itself) in around 7 years. Standard solar warranties run 25 years, so the solar power system would provide another 18 years of straight financial savings while under warranty!
Considering the current Atlanta Falcons stadium – the Georgia Dome – has been used for around 22 years, going solar could save Georgia taxpayers a lot of money! A small 100 panel system would provide more than $500,000 dollars worth of energy savings over the 40 year system life, and a larger solar power system could generate even more savings!
The new stadium is expected to cost an estimated $1.2 billion dollars! Georgia solar energy enthusiasts (and taxpayers) wonder if some of that cost will include energy and money-saving solar panel technology?
So, will the new Atlanta Falcons football stadium be solar powered?
Combining the current trend of solar powered NFL stadiums with how much money could be saved, it seems like a no brainer!
Solar Energy USA is proud to be the leading provider of Affordable Solar Solutions in Georgia and the southeast.
Featured Product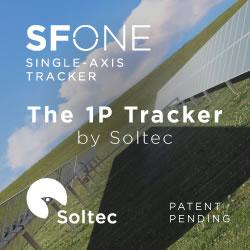 Soltec manufactures and supplies solar trackers designed and proven for extreme climate conditions, which is an ideal solution for any region's environment. Soltec's trackers are self-powered, requiring no additional PV module or grid-powered connection. Bifacial modules collect energy on both the front and rear sides, capturing reflected irradiance from the ground surface under and around the tracker and from other modules. Depending on site conditions, bifacial yield-gain can reach +30 percent.