Distributed Converter technology provides high efficiency and high MOSFET reliability
LOUISVILLE, Colo., May 21, 2014 -- Boulder Wind Power (BWP), a developer of advanced permanent magnet generators and full power converter technology for utility-scale wind turbines, today announced an expansion to their product line with the new DC Generation SystemTM. The new power conversion approach leverages BWP's unique Distributed Converter and Printed Circuit Board (PCB) technology to distribute the power conversion process across the generator, and convert power from alternating current (AC) to direct current (DC) directly at the generator.

"We are bringing an innovative power conversion approach to the wind industry," said Andy Cukurs, CEO, Boulder Wind Power. "Because BWP generators are naturally segmented, we can combine our PCB stators with power conversion components in a modular fashion, and can optimize system voltage to meet customer requirements. These lower voltage combinations enable the use of off-the-shelf, low-voltage silicon carbide (SiC) MOSFET active rectifiers."
This new system can be used with all of BWP's geared and direct drive generator designs, and results in turbine system efficiency increases of up to two percent through the use of next-generation SiC MOSFET active rectifiers in the Distributed Converter and direct current (DC) transmission in the down tower cables. Alternatively, customers can trade efficiency gains for smaller down tower cables, lowering system costs.
"IGBTs tend to fail frequently, but SiC MOSFETs are more reliable and deliver superior efficiency. This is why we believe the wind industry is evolving in this direction," said Cukurs. "As such, BWP is strategically focused on developing distributed converter technology that can take advantage of the benefits of silicon carbide components while reducing the size of the system and ensuring high reliability."
The development of the DC Generation SystemTM follows the recent announcement of BWP's expanded generator portfolio, which includes the new Ultra Low Speed Generator category for sites where low wind speeds require a large aerodynamic rotor and noise considerations limit aerodynamic rotor tip speed.
"Our team at BWP is constantly working on new ideas. We wanted to develop new conversion technology to match our expanded line of medium, low and ultra low speed generators for onshore and offshore wind projects," said Cukurs. "When OEMs combine our generators and power conversion systems, they will produce more wind energy at lower costs – a critical competitive edge in a mature global wind market."
For more information about BWP, please visit www.boulderwindpower.com.
Featured Product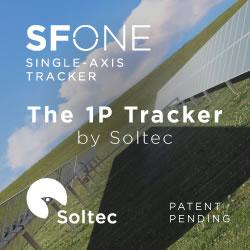 Under the slogan "engineered for greatness", the SF8 tracker aims to revolutionize the photovoltaic market with its new minimum 2x60 configuration and 4 to 6-strings. This tracker is elegantly designed while it reinforces its structure to perform in any terrain. In addition, the SF8 tracker increases the rigidity of its structure by 22% more than the previous generation of Soltec trackers, the SF7. The SF8 is specially designed for larger 72 and 78 cell modules, an increasing market trend.