The National Solar Conference comes to San Francisco, July 6-10
BOULDER, Colo., May 20, 2014 -- The 43rd National Solar Conference (SOLAR 2014), hosted by the American Solar Energy Society in San Francisco (July 6-10), will feature a rich variety of presentations on high-efficiency architecture, under the Solar Buildings track.

The program includes 47 papers and panels, from 22 universities and a dozen design and architectural firms around the world.
Some highlights:
*Case histories of high-efficiency office buildings, schools and homes, documenting performance over periods as long as 25 years
*Design tools for Zero Net architecture
*Advances in daylighting technology
*Techniques for Zero Net retrofits
*Evaluation of tight envelope techniques, phase change materials and natural ventilation designs
*Design directions for the future
Principal investigators include faculty at the University of Oregon, Ngee Ann Polytechnic/Singapore, University of Wyoming, University of Nevada/Las Vegas, University of Idaho, California Polytechnic University, Arizona State University, Texas A&M, University of Southern California, University of Delaware, North Carolina State University, University of North Carolina, Delhi University, Eastern Mediterranean University/Cyprus, SungKyunKwan University/Korea, University of Hawaii, Oklahoma State University, Judon University/Elgin, Ill., University of Washington, Federal University of Technology/Brazil, Virginia Tech and Technion/Israel.
For more information, and to register, go to http://solar2014.org. Student and Professional members of ASES are eligible for discounts. To join ASES, go to http://ases.org
SOLAR 2014 co-locates this year with Intersolar North America. Registration at SOLAR 2014 includes admission to the ISNA trade show and conference events.
About the American Solar Energy Society
Established in 1954, the nonprofit American Solar Energy Society (ASES) is the nation's leading association of renewable energy professionals and advocates. ASES is the United States Section of the International Solar Energy Society (ISES). Our mission is to speed the transition to a sustainable energy economy.
Programs
ASES publishes the award-winning SOLAR TODAY magazine, and the newsletters Solar@Work (for renewable energy professionals) and Solar Citizen (for renewable energy advocates).
We organize and present the ASES National Solar Conference, and publish its Proceedings.
We lead the ASES National Solar Tour ó the largest grassroots solar event in the world.
We bring the Solar and Renewable Energy Communities Together with:
∑ Regional chapters in 41 states and the District of Columbia
∑ 7 Student Chapters at colleges across the country
∑ 9 Technical Divisions, with academic and engineering members from all disciplines, to serve as a clearing house for basic research across all renewable-energy and energy-efficiency technologies
Featured Product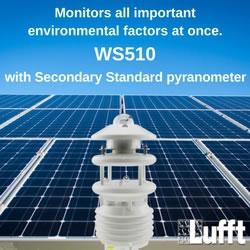 Professional weather sensors form the heart of large solar plants supporting their operation and performance. Lufft was the first manufacturer to combine several sensors in one housing, bringing the largest multiparameter weather sensor family with 19 members into being. Many of them are well-suited for solar site assessment and continuous monitoring. The most commonly used one is the WS600 delivering data on temperature, air pressure, wind, relative humidity and precipitation. Through its open protocol, it can easily be attached to radiation sensors e.g. from Kipp&Zonen. Other models have an integrated Silicon, Second Class or Secondary Standard radiation sensor.