The success of this pilot will be key for QSolar opening up the multibillion dollar solar power market in the Middle East and North Africa (collectively "MENA" countries).
Calgary, Alberta CANADA, May 27, 2014 (Filing Services Canada via COMTEX) -- QSolar Limited (cse:QSL) DE:Q2O +12.00% ,("QSolar" or the "Corporation") is pleased to provide an update pursuant to its November 12, 2013 and December 11, 2013 news releases regarding the testing of its newly developed high temperature QLX desert-ready photovoltaic ("PV") solar panels. QSolar is testing its QLX desert ready photovoltaic ("PV") solar panels, which utilize its proprietary polymer, Spraytek99(r), and non-glass QSS substrate, to compare their performance and durability against standard glass solar panels, under extreme desert conditions.

The QSolar QLX desert-ready solar panels address the performance problems that standard glass solar panels have not been able to address successfully. The performance of standard glass solar panels degrade significantly under the extreme heat of the desert and performance is further reduced by numerous sand storms which cover the surface of the panels with dust or a mixture of sand and hydrocarbon micro particles in the air and settling on solar panels.
The success of this pilot will be key for QSolar opening up the multibillion dollar solar power market in the Middle East and North Africa (collectively "MENA" countries), a very desirable market where the objective is to have an effective solution for efficiency, durability and extreme ultra-violet issues that currently degrade and discolor other manufacturers' glass solar panels subjected to extreme heat conditions. GTM Research and the Emirates Solar Industry Association predict an annual volume of 3.5 gigawatts ("GW") in the MENA region's solar market by 2015. By 2017, the demand is expected to exceed 10 GW. Successful conclusion of this project will also enable introduction of the QLX desert-ready PV solar panel into certain areas of the United States such as Arizona, eastern and southern California, Nevada, New Mexico and Texas where similar heat conditions exist as well as in the target countries of Pakistan and India.
QSolar expects to have initial meaningful results by the end of June when the desert temperatures consistently exceeds 45 degrees celsius and it is expected TUV SUD will return in the latter part of July to record the final results.
QSolar has completed installation of the initial testing system in Dubai and recent test results from the pilot site in Dubai confirm QSolar's laboratory indications of slower heating of the PV panel in higher heat conditions than standard competitor's glass PV solar panels.
The net effect is that QSolar's proprietary polymer panels deliver increased efficiency compared to a tier 1 competitor's panel. As a result of the initial Dubai indications, QSolar has made further trade secret enhancements to the QSolar QLX desert-ready PV solar panel. QSolar has also moved and expanded the pilot installation from Dubai to a desert site located approximately 50 miles from Dubai.
The second phase of the pilot testing which has already commenced, will further subject the QLX desert-ready PV solar panel to more environmentally harsh conditions including higher average summer heat temperatures exceeding 45 degrees celsius and severe sand storms included in the testing procedure.
The expanded pilot installation now includes PV panels from two tier 1 manufacturers and competitors along with the QSolar QLX desert-ready PV proprietary solar panel. The desert installation also expanded the number of panels per manufacturer in order to enhance the statistical accuracy of the results. The QSolar QLX desert-ready PV solar panel is being tested utilizing heat sink technology and incorporates a device that effectively assists in cooling the surface of the panels, and as a result produces more power efficiency in higher heat conditions than standard glass panels. The significance of the enhancements made to the proprietary QSolar solar panel is that any improvement in efficiency of the output of the solar panel translates to significant improvements into the economics and returns of a solar installation, especially in these extreme desert conditions.
The QSolar proprietary technology and design addresses a significant issue occurring under desert conditions. One of the main components of a solar panel is the solar cell made of silicon materials. Silicon efficiency degrades by approximately 0.43% per degree celsius of each degree of temperature increase. The QSolar desert design therefore is addressing keeping the proprietary polymer solar panels relatively cooler while the efficiency of the panel is maintained for extended times beyond that produced from standard PV glass panels.
TUV SUD (Jiangsu TUV Product Service Ltd., Shanghai Branch) ("TUV SUD") continues to be engaged on the testing and will assess performance and durability comparisons to standard glass panels, including confirming the expanded system configuration, recording components and evaluating power measurement results. TUV SUD has also already been on-site and validated the starting point of the expanded installation, including recording all items utilized in the pilot. Measuring meters have been installed by QSolar and validated by TUV SUD which will record the results and are also being monitored by three, 3G, CCTV, IP cameras via internet. The cameras are being powered by the first smaller installation PV solar panels that QSolar redeployed from the initial pilot project in Dubai. It is intended that TUV SUD will prepare an independent technical report on the comparison and performance of QSolar QLX desert-ready solar panels against the standard solar glass panels of the two tier 1 manufacturers.
About QSolar Limited
QSolar trades under the symbol QSL on the Canadian Securities Exchange ("CSE") and Q2O on the Frankfurt Securities Exchange ("FSE"). There are currently 73,748,912 common shares issued and outstanding.
QSolar Limited ( www.qsolar.net ) and its wholly-owned subsidiary, QSolar Ltd., and its wholly-owned subsidiary, QSolar (Shanghai) Photovoltaic Technology Co. Ltd., develop proprietary trade secret solar related processes and technologies, and manufacture and sell proprietary solar products. The Corporation currently manufactures solar photovoltaic (PV) panels in Shanghai, China using its proprietary trade secret Spraytek(r) and ESS process and its own QLite and QSS family designs. QSolar Spraytek(r) panels offer several advantages over competing products as they have significantly lower losses in hot climates due to their design, offer superior solar cell encapsulation for better protection, significant weight savings and durability features over existing competitors PV modules
Additional information on the operations or financial results of QSolar Limited are included in reports on file with applicable securities regulatory authorities and may be accessed through the CSE website ( www.cnsx.ca )and SEDAR website ( www.sedar.com )under the profile for QSolar.
Featured Product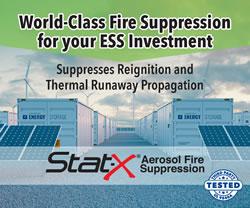 Stat-X® condensed aerosol fire suppression is a solution for energy storage systems (ESS) and battery energy storage systems (BESS) applications. Our Stat-X condensed aerosol fire extinguishing product was tested for efficacy in suppressing li-ion battery fires. It was found that the product successfully extinguished single and double cell battery fires. This testing was conducted in parallel with a large battery fire testing program on behalf of a large energy storage company.