TRA Snow and Sun's new elevated solar mounting design for non-south facing home enables homeowner to qualify for rebate and can be used on future similar projects
American Fork, UT May 27, 2014

Robco Electric, Inc. of Las Vegas, Nevada, was faced with a difficult solar panel design. Their residential customer wanted to qualify for a rebate from NV Power for a photovoltaic solar system on his house. One of NV Power's requirements was that the solar panels face no more than 70 degrees from true south, but his roof was complicated. It had an east-west orientation, was concrete tile with a 4/12 slope, and the system had to withstand a 120 mph wind speed. This set of circumstances was not conducive to any solar power system. Fortunately for Robco and the homeowner, TRA Snow and Sun was able to develop a new elevated solar mounting system specifically for this set of circumstances. From now on this application will be available to other TRA customers in similar situations.
Bruce Rogul, Robco Sales and Marketing Director, described TRA's new solution as "elegant in its simplicity" compared to how this issue had been handled in the past on a similar roof plan. "There was a homeowner about a year ago who wanted to obtain a rebate but couldn't find anyone who could create a system with the strange angles needed to qualify for the rebate. His house faced north and south but the south side was completely shaded. We helped him develop a home-made system using metal studs for mounting brackets. He painted them and bolted them to roof. It looked like a space ship had landed on his roof but he got the rebate!"
Such a homemade system employing steel and aluminum can cause corrosion and other problems due to the dissimilar metals. As such, Robco was eager to find another solution in the future. TRA engineers worked out a new way to mount the panels on a sloped roof that does not face south, that also avoids the problems associated with the dissimilar metals (steel and aluminum) which the homemade system incorporated. It looks sleek and clean while meeting all the requirements from NV Power. The homeowner was able to obtain his rebate which ended up being approximately $10,000.
Jake Owsley, of TRA Snow and Sun, states "We are happy to have found a solution to the problem of east-west facing roofs that can be duplicated on other projects. It will enable other NV Power customers to qualify for rebates when they become available later this year." TRA Snow and Sun provided the engineering and design layout for free and provides this service free of charge for all customers.
Robco Electric has been serving Las Vegas since 1997 and installed hundreds of solar PV systems. Robco' s team has over 30 years of experience in the solar industry and prides itself on using high quality American-made products backed by 100% customer service. 702-614-4900. Visit their website at http://www.gsesolarlasvegas.com. For more information contact Bruce Rogul (brucer(at)robcoelectriclv(dot)com).
TRA Snow and Sun, Inc., located in American Fork, Utah, offers Roof Snow Retention Devices, Solar Mounting Systems and Roof Flashing Solutions. They supply to all types of customers, from the individual homeowners to the big developers. Their engineered designs are always free for all types of systems. For more information call Jake Owsley at TRA Snow and Sun at 800-606-8980, jowsley(at)trasnowandsun(dot)com, or visit http://trasnowandsun.com/product-category/solar-mounting/.
Featured Product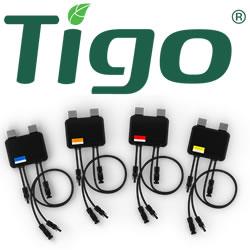 Tigo will announce the new product launch of the patented UHD-Core TS4-A (Advanced Retrofit/Add-on) Platform at SPI 2019. The new TS4-A-M (Monitoring) & TS4-A-S (Safety) units have improved lightweight hardware and lower labor costs to address a range of functions and budgets. The TS4-A-M allows module-level monitoring via Tigo's SMART Website & App. The TS4-A-S is UL-certified as a rapid shutdown solution for residential and C&I PV system. Both units join the Tigo's multivendor solution that works with almost any inverter and smart module in the global PV market. Contact sales@tigoenergy.com for pricing, shipping, and availability in Q4'19.