Greek Presidency's proposed 7% cap on conventional biofuels, agreed today, will be considered by the EU Energy Council on 13th June
The EU Committee of Permanent Representatives (COREPER) has today reached agreement on measures to address indirect land use change (ILUC) in EU biofuels policy, including a cap on conventional biofuels set at 7%. The COREPER position will be considered by the EU's Energy Ministers at their Council meeting on 13th June, and will then be considered by the new European Parliament.

The June Environment and Energy Council meetings are also expected to consider the 2030 energy and climate framework, although it is expected that a final decision will not be made until October.
REA Head of Renewable Transport Clare Wenner said:
"Nearly £1 billion has been invested in low carbon fuels in the UK and thousands of jobs depend on a sensible solution. If Energy Ministers can finalise this agreement at their meeting on 13th June, this brings us a step nearer to a political solution to what has become a political problem.
"The new European Parliament, elected only last week, now has to consider the Council text. We urge them and all European institutions to put an end to this seemingly never-ending debate to save UK investment and UK jobs.
"The UK Government has said it will set out how the UK will meet the 2020 10% renewable transport as soon as this decision is made. The UK industry need this policy certainty above all else."
Featured Product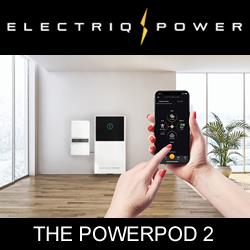 The Electriq PowerPod 2 is a fully-integrated home energy storage, management, and monitoring system powered by LFP batteries. The high-performance, cobalt-free product includes a hybrid solar/battery inverter controlled by intelligent software. The PowerPod 2 provides backup power and can self-consume or export excess power back to the grid.