Greek Presidency's proposed 7% cap on conventional biofuels, agreed today, will be considered by the EU Energy Council on 13th June
The EU Committee of Permanent Representatives (COREPER) has today reached agreement on measures to address indirect land use change (ILUC) in EU biofuels policy, including a cap on conventional biofuels set at 7%. The COREPER position will be considered by the EU's Energy Ministers at their Council meeting on 13th June, and will then be considered by the new European Parliament.

The June Environment and Energy Council meetings are also expected to consider the 2030 energy and climate framework, although it is expected that a final decision will not be made until October.
REA Head of Renewable Transport Clare Wenner said:
"Nearly £1 billion has been invested in low carbon fuels in the UK and thousands of jobs depend on a sensible solution. If Energy Ministers can finalise this agreement at their meeting on 13th June, this brings us a step nearer to a political solution to what has become a political problem.
"The new European Parliament, elected only last week, now has to consider the Council text. We urge them and all European institutions to put an end to this seemingly never-ending debate to save UK investment and UK jobs.
"The UK Government has said it will set out how the UK will meet the 2020 10% renewable transport as soon as this decision is made. The UK industry need this policy certainty above all else."
Featured Product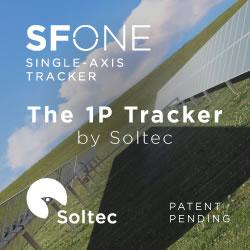 Under the slogan "engineered for greatness", the SF8 tracker aims to revolutionize the photovoltaic market with its new minimum 2x60 configuration and 4 to 6-strings. This tracker is elegantly designed while it reinforces its structure to perform in any terrain. In addition, the SF8 tracker increases the rigidity of its structure by 22% more than the previous generation of Soltec trackers, the SF7. The SF8 is specially designed for larger 72 and 78 cell modules, an increasing market trend.