Slow Start to 2014 Offset by Huge Second Half
"Global photovoltaic (PV) installations will reach 15 GW in the final quarter of 2014, beating the previous record of 12.7 GW in Q4'13 according to latest analysis from IHS. The second half of 2014 will see a surge in global PV demand driven by incentive policy changes in several key markets as well as the ramping of installations triggered by record low system prices.

Slow Start to 2014 Offset by Huge Second Half
Despite high demand in the UK and Japan in Q1, globally, installations have been slower than some anticipated, with a 17% decline versus the final quarter of 2013. This seasonal slowdown was reflected in decline in shipments of most PV manufacturers, compounded by the fact that most of the UK and Japan's Q1 installations were served by components shipped at the end of 2013 to beat the March 31 deadline. Japan and UK accounted for 42 % of global installations in Q1.
Yet despite this slow start to 2014, IHS has reiterated its forecast of 46 GW of installations this year, due to a surge in demand that it predicts for the second half of 2014, based on a quarterly review of PV installations in more than 100 countries conducted by the IHS PV Demand Market Tracker.
We predict installations of just under 15 GW in the final quarter of this year – a new record for the industry and a remarkable achievement. Large-scale projects will be the main driver of this, with nearly 9 GW of MW-scale systems occurring.
China Uncertainty
China has set very aggressive targets for solar deployment in 2014 and also recently increased its long-term ambitions targeting 70 GW of installations by the end of 2017. Despite this, its recent push to move the country away from huge utility-scale systems, to distributed PV has caused concern and uncertainty.
Industry players have rightly become concerned about China's ability to install 8 GW of distributed PV in a single year, given the lack of channel infrastructure, financing conditions and issues over roof ownership rights. IHS previously predicted this 8 GW was unachievable and instead expect around 4-5 GW to be installed. We do however expect new policy to be imminently released by the NDRC, as early as July to help speed development of this market segment and most importantly ease bottlenecks in financing.
Assuming new policy will be announced in Q3, IHS predicts China's PV installations to amount to 13.1 GW in 2014, with more than 70% of this happening in the last six months of the year.
Top 5 markets in 2014
Whilst China will undoubtedly remain the world's largest PV market in 2014, a more surprising change in the top markets is that the UK will leapfrog Germany. This is due to policy changes in both countries.
The cuts to Germany's feed-in tariff, coupled with the minimum import price of Chinese PV modules has weakened demand considerably and less than 2.5 GW will be installed there this year, we predict. On the other hand, the UK's recent announcement that it would review entitlement of large-scale solar's access to the ROC scheme two years earlier than expected will create a rush to complete several gigawatts of ground-mount projects before April 2015. Although much of this will be completed in Q1'15, developers will likely push ahead and aim to complete projects earlier in 2014.
IHS predicts the top 5 solar PV markets in 2014 (in terms of newly added dc capacity) will be:
1. China
2. Japan
3. USA
4. UK
5. Germany
As a result of the strong close to 2014, IHS predicts that shipments and revenue of leading solar manufacturers will increase sharply, particularly in Q3 to serve the boom of installations in the final quarter of 2014. Furthermore IHS predicts a further improvement in profitability of the industry, with gross margins throughout the PV module manufacturing chain reaching around 15% in the final quarter of 2014."
Featured Product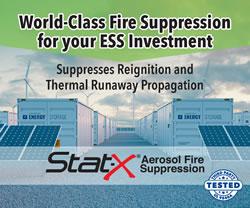 Stat-X® condensed aerosol fire suppression is a solution for energy storage systems (ESS) and battery energy storage systems (BESS) applications. Our Stat-X condensed aerosol fire extinguishing product was tested for efficacy in suppressing li-ion battery fires. It was found that the product successfully extinguished single and double cell battery fires. This testing was conducted in parallel with a large battery fire testing program on behalf of a large energy storage company.