The company will go to Munich from June 4th to 6 th to introduce its new catalog
This year, Bornay will participate for the first time at Intersolar Europe, the largest trade fair for the solar industry worldwide. From June 4th to 6 th several members of the Bornay team will travel to Munich as exhibitors, thanks to the joint participation of different companies in Solartys, the Spanish Association for the Internationalisation and Innovation of Solar Companies.

Intersolar Europe is the largest international trade fair for the solar industry, attracting thousands of visitors from all over the world each year, and has become a significant meeting point for suppliers and customers. Bornay Small Wind Turbines are a perfect complement for the solar energy and this is the main issue for its presence at the trade fair.
According to Bornay's CEO, Juan de Dios Bornay, the company's presence at Intersolar is aimed to the promotion of Small Wind Turbines and a new product, the Solar Microstation, which has been very well received by the public. " Thanks to a solar panel, Solar Microstation allows users to connect a bulb or charge mobile phone anywhere in the world. It is an easy and inexpensive way to provide basic services of electricity", said Juan de Dios Bornay.
The Solar Microstation includes a solar panel wich can generate a power up to 20 W, two LEDs of 3 W bulbs and a set of USB connectors. Inside is a Li-on battery that can store energy and supply it to the consumption of the system, with range of up to 8 hours. It also has a USB connector which can be used to recharge any mobile phone and two RJ10 connectors which connect to the LED bulbs.
Bornay has designed the Solar Microstation with a large variety of uses in mind, ranging from lighting in a shelter or for athletes practicing outdoors to very important situations such as the provision of basic needs for electricity and communication in remote areas and developing countries.
The company, located in hall A2, stand 135, will introduce its range of products, including its speciality, Small Wind Turbines for the wind industry. In addition, to mark Bornay's first appearance at this trade fair, the CEO is proud to announce great savings on the company's products, with reductions of between 2% and 40 % on almost all products in the the company's catalog." Juan de Dios Bornay has explained that "the good job done by our commercial department, joined with the confidence of our customers in our brand has meant an increase in sales and more rotation of our products. These two factors, together with the confidence of our suppliers, mean that we have been able to reward our customers with multiple reductions of our prices, substantial ones in some cases," The CEO of the company stated that the Bornay philosophy is based, among other things, on collaboration and customer service: "we consider part of our responsibility to be there for our customers when they need us, offering better service and providing them with better profitability".
Small Wind Turbines are the Bornay's own product and the result of a significant amount of internal research and development, which is conducted by the company's I+D+i department. In addition, the company is a distributor of products ranges from renewable energy to complete the needs of its clients in the field of green energy.
In addition, Bornay will make a presentation at the BSW stand, where different companies will make presentations about significant stand alone facilities. Bornay, which will make its presentation on June 6, will present the rural electrification project it conducted in Venezuela for the electrification of 73 communities, each consisting of up to 40 homes, a medical center and a school.
Bornay has always worked with a very responsible business policy, which is first reflected inside its business, in its impact on the town in which it is located and, finally, in international projects it partakes to improve other people's lives.
Internationally, Bornay has supported collaboration to totally deprived areas such as Tanzania, the Congo or some populations of Venezuela. These actions will be also presented at the BSW stand.
Furthermore, Bornay will have a work meeting and networking session with the association "Alliance for Rural Electrification", of which Bornay is a member. This association works very actively on issues of rural electrification, especially in developing countries.
Featured Product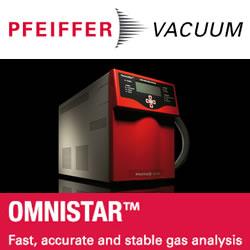 The Pfeiffer Vacuum OmniStar benchtop analysis system offers you a compact footprint, powerful software and Ethernet connectivity. It's the optimum solution for many real-time gas analysis applications. With the OmniStar, Pfeiffer Vacuum offers you a complete solution for gas analysis, in chemical processes, semiconductor industry, metallurgy, fermentation, catalysis, laser technology and environmental analysis. The turnkey OmniStar gas analysis system consists of heated, temperature-regulated gas inlet system, Quadrupole mass spectrometer, a dry diaphragm vacuum pump and HiPace turbopump. Unlike competing methods such as FTIR, OmniStar is suitable for qualitative and quantitative analysis of most gases.