The first all-veteran group of eight graduated on May 16, 2014, after spending five days in classroom and hands-on solar photovoltaic training. On the final day, the veterans took the North American Board of Certified Energy Practitioners' NABCEP Entry Level test.
Murrieta, CA (PRWEB) May 31, 2014

On the day of graduation, two veterans were offered full-time employment with a Southern California solar sales and installation company. They will begin working the week of June 2nd, 2014. Of the remaining veteran graduates, three are interviewing with local solar companies and three will be eligible for employment later this summer. Some are eligible to receive wage assistance from the Riverside County Workforce Investment Act's On-the-Job Training [OJT] program, whereby half of their hourly wages for the first 90 days are reimbursed to the hiring company, whose intention is to keep them permanently employed.
The next five-day all-veteran training will begin June 2, 2014 at the Ambassador Energy College training center in Murrieta, California. As with the previous group, these eight veterans will be offered placement assistance by The Veteran Advantage, whose mission is to, not only provide training to veterans at no cost to them, but place them into careers within the renewable energy industry.
"I am not surprised that there is so much interest in these veterans," said Catherine Kelso, Director of Training for Ambassador Energy College. "I am confident that the majority of them will be hired. As their trainer, I was personally impressed with the group. Each of the five days of class, they arrived on time, paid attention and were very respectful. I have trained 100's of solar students and have never met a sharper group. I am optimistic about their test results and about the groups of veterans yet to come through the program."
Ambassador Energy proctored, on the final day of class, the NABCEP Entry Level test. Within three to six weeks, students will be notified of their passing or failing the exam. If a student fails, Ambassador Energy College offers students their branded "safety net", which includes auditing the class and/or retaking the exam for a nominal fee. For U.S. military veterans, the initial course, Entry Level PV Design and Installation and the NABCEP EL test, which are typically offered for $1295 per student, are offered free of charge by The Veteran Advantage and its training partner, Ambassador Energy College.
"Ambassador Energy has a pass-rate almost double the national average," continued Kelso, "so we have every reason to be optimistic in the passing of this amazing group of veteran students. They come to us from the military with great work ethics, the ability to work in teams, respect for management and a plethora of other attributes. Their military experience is very symbiotic to the work we do in solar. This was a great week. I can't wait for the next all-veteran class next week!"
For information or to donate to this cause, contact The Veteran Advantage.
About The Veteran Advantage
The Veteran Advantage [TVA] is a non-profit organization, whose mission is helping U.S. military veterans (Active/Guard & Reserve), obtain careers in the renewable energy sector. TVA recruits, facilitates top-notch Solar PV training and ultimately provides placement services - at no cost to the veteran.
About Ambassador Energy
AE has a three-pronged business model, which includes Ambassador Energy College Solar Training, the Ambassador Energy Agency Program and the installation arms, Ambassador Energy and Ambassador Solar. On staff are NABCEP Certified PV Installers, NABCEP Certified PV Technical Sales professionals [Fulgham/Kelso] and multiple NABCEP EL graduates. AE holds California licenses General Contractor B, C10 Electrician and C46 Renewable Energy. Ambassador Energy is IREC/ISPQ accredited. AE Agencies are nationwide. Ambassador Energy installs residential and commercial PV systems throughout California and the US.
Featured Product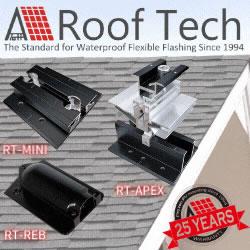 Now Roof Tech brings you the most innovative, watertight mounting systems ever developed for solar photovoltaic systems. Designed and manufactured exclusively for us by Japan's longtime leader in roofing technologies, Roof Tech products are 100% code-compliant and offer fast, simple installation and huge savings on shipping costs due to their compact, rail-less design. Learn more about our full line of versatile PV mounting solutions now available for residential installations. The next generation in rooftop solar mounting solutions."