Prior to the carbon emission limits placed on power plants Central Florida clean energy company discusses air pollution and clean energy initiatives with EPA Administrator.
Recently, the Founder of Clean Footprint, John Porter, met with the U.S. Environmental Protection Agency (EPA) Administrator Gina McCarthy.

The Administrator traveled to Dr. Phillips High School in Orlando to discuss energy initiatives prior to the Clean Energy Plan announced yesterday. During her visit she participated in a classroom experiment to test air pollution, met with students studying environmental science and discussed leaving a cleaner planet for the next generation. Also in attendance were Orlando Mayor Buddy Dyer and EPA Regional Administrator Heather McTeer Toney.
"New federal regulations that aim to reduce carbon dioxide emissions from power plants will have a large economic upside, largely through health savings, says Gina McCarthy, administrator of the Environmental Protection Agency. "But that doesn't mean that the share of electricity from coal is going to be significantly diminished."
Clean Footprint, Central Florida's leading solar development and finance company, is committed to providing reliable, cost effective, and sustainable clean energy choices that benefit both the environment and the people living in it.
A solar energy system produces electricity with no emissions, no greenhouse gases, no pollution and no waste products. Solar is also sustainable choice with an endless supply of sunlight as a fuel source – and it's free. Additionally, the growing solar industry has created jobs in sales, installation, manufacturing and financing.
"Power Plants have had no limits on their climate pollution, but that all just changed." said John Porter, Managing Partner and Founder of Clean Footprint. "Gina McCarthy said it best stating that the most costly thing we can do is nothing."
About Clean Footprint
Located in Central Florida, Clean Footprint is fully engaged in development and solar financing, EPC, solar monitoring, and the operation and maintenance of solar farms. Clean Footprint works together with solar developers to bring utility-scale commercial solar PV projects to fruition that are reliable, cost effective, and sustainable. For more information, visit http://clean-footprint.com or phone (321) 613-4424.
Featured Product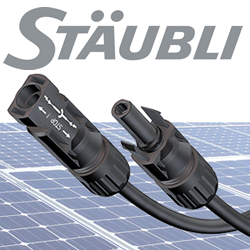 ​Stäubli Electrical Connectors are used on more than 300 GW, over 50% of the PV capacity worldwide. The MC4 family of UL and TUV listed products include connectors, in-line fuses, branch connectors, cable assembly and more.