Company solves technical challenges posed by batteries
Munich, Germany, 5th June 2014 – Why does eliminating the need to connect battery cells in series represent a real paradigm shift? Today at the Intersolar exhibition, the German company ASD Automatic Storage Device presented a technological development that could revolutionise the battery market. The company's new electronic battery cell device significantly improves the performance and lifespan of batteries and lowers the costs of storage systems by up to 30 percent, while opening up previously unimaginable possibilities in storage configuration.

Press photos are available here: www.asd-sunstorage.com/series-connection/
Until now, the output of entire strings was determined by the weakest cell and a single broken battery cell meant that the whole battery had to be exchanged. Cell balancing led to losses in performance and only cells produced by the same manufacturer, of an identical type and using the same battery technology could be connected to each other. With Pacadu (parallel automatic charge and discharge unit), ASD has developed a new electronic device that can be installed onto each individual battery cell. The innovation allows any number of cells to be combined in a storage system, irrespective of their size, manufacturer, storage technology or power output.
"We have succeeded in finding a solution that overcomes the technical problems caused by connecting battery cells in series. This marks a real revolution, not only for energy storage systems but for every single battery used around the world. The parallel connection of battery cells has so many advantages that in four years' time the practice of connecting cells in series will have become a thing of the past," explains Wolfram Walter, Managing Director of ASD and an expert in storage systems. "Our electronic cell device monitors each individual cell and responds to it accordingly. It also notifies users of a cell nearing the end of its lifespan shortly before it needs to be changed. Unlike in the past, this allows cells to be replaced with any new cell and without interrupting normal operations." According to Walter, the system allows batteries to be gradually modernised by replacing cells at the end of their life cycle with cells using the latest technology.
The new technique of connecting cells in parallel increases battery performance by preventing the losses in voltage seen in cells connected in series. With an efficiency value far exceeding 90 percent, Pacadu itself causes hardly any energy to be lost. Batteries fitted with the smart control system can be connected at any voltage level, be it 12 volts as seen on campsites, 36 volts as found in e-bikes or 600 volts as is customary with large-scale storage systems.
ASD not only uses the smart cell control system in its own energy storage devices, but also sells the component separately. Although the electronic cell device was originally developed with large-scale storage systems in mind, ASD is also planning to fit its domestic energy storage systems with Pacadu.
About ASD
ASD Automatic Storage Device GmbH is headquartered in Umkirch, near the German city of Freiburg. The company was founded in May 2013 by the engineers Wolfram Walter and Gerd Knoll. ASD produces intelligent solar energy storage systems that use control electronics to enable households or commercial enterprises to be as self-sufficient as possible. These systems employ lithium iron phosphate battery technology and are manufactured in Germany. The German Renewables Award was presented to ASD in autumn 2013 for its innovative storage technology.
www.asd-sunstorage.com
Featured Product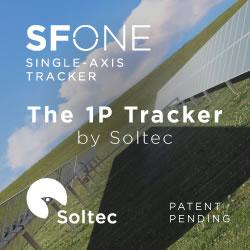 Under the slogan "engineered for greatness", the SF8 tracker aims to revolutionize the photovoltaic market with its new minimum 2x60 configuration and 4 to 6-strings. This tracker is elegantly designed while it reinforces its structure to perform in any terrain. In addition, the SF8 tracker increases the rigidity of its structure by 22% more than the previous generation of Soltec trackers, the SF7. The SF8 is specially designed for larger 72 and 78 cell modules, an increasing market trend.