It will be the second major solar installation located at the military facility
SAN JOSE, Calif., June 4, 2014 /PRNewswire/ -- SunPower Corp. SPWR -0.09% has been selected by NV Energy to build a 19-megawatt (DC) solar photovoltaic power system at Nellis Air Force Base in Nevada. The system is expected to be constructed next year, contingent on contract approval by Nevada's Public Utilities Commission. It will be the second major solar installation located at the military facility – SunPower completed a 14-megawatt (DC) solar power system at the base in 2007.

"We are pleased to team again with NV Energy. In 2007, it took nine months to construct the 14-megawatt plant at Nellis Air Force Base, which was the largest solar photovoltaic power plant in the U.S. at the time," said Howard Wenger, SunPower president, regions. "Today, we can install more than one megawatt per day at our larger power plant sites, creating long-term value for our utility customers and competing effectively with traditional energy sources. We congratulate NV Energy for their leadership in renewable energy and are pleased to work with them on this important project."
"NV Energy looks forward to the opportunity to bring more clean, renewable energy to power facilities and military operations at Nellis Air Force Base," said Stacey Kusters, vice president, renewable energy and origination for NV Energy. "Our partnership with SunPower is a key component of achieving our renewable energy goals at a competitive cost."
At the site, SunPower will build a SunPower Oasis™ Power Plant system. Oasis is a fully integrated, modular solar power block that is engineered to rapidly and cost-effectively deploy utility-scale solar projects while optimizing land use.
According to estimates provided by the U.S. Environmental Protection Agency, the completed plant will offset the annual production of almost 27,000 tons of carbon dioxide emissions, which is the equivalent of removing 136,800 cars from Nevada's roads over the next 25 years.
About SunPower Corp. SunPower Corp. SPWR -0.09% designs, manufactures and delivers the highest efficiency, highest reliability solar panels and systems available today. Residential, business, government and utility customers rely on the company's quarter century of experience and guaranteed performance to provide maximum return on investment throughout the life of the solar system. Headquartered in San Jose, Calif., SunPower has offices in North America, Europe, Australia, Africa and Asia. For more information, visit www.sunpower.com .
Featured Product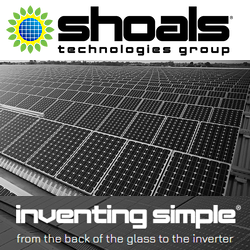 Inventing Simple® isn't just a slogan to us, it's a way of life. Using simple plug-and-play ideology, we revolutionized solar installations in 2003 with our Interconnect System™. Our harnessing system is now the gold standard EPC's use around the world. By using simple ideas, we are making solar energy a more affordable and clean power source for future generations.