Clean Energy Entrepreneurs Discuss Consumer-based Tools for our Clean Energy Future Panelists Join Keynote Hillary Rodham Clinton During Annual Clean Energy Discussion in Las Vegas on Sept. 4
Las Vegas, NV — "National Clean Energy Summit 7.0: Partnership & Progress" will welcome a dynamic panel of executives from growing American clean energy companies to the seventh annual conference at Mandalay Bay Resort & Casino in Las Vegas on September 4. These visionaries will join Senate Majority Leader Harry Reid and keynote speaker former Secretary of State Hillary Rodham Clinton along with other top policymakers and market leaders to generate ideas that bring the public and private sectors together leading to further growth of our clean energy economy.

The Summit's "User-Friendly Clean Energy" panel will feature entrepreneurs dedicated to empowering consumers to be a part of the evolving clean energy economy. Moderated by Clean Energy Project chairwoman Rose McKinney-James, the panel will discuss innovations in consumer friendly technology that have accelerated consumer's role in advancing our clean energy landscape.
Panelists include Billy Parish, Founder/President of solar crowd-funding platform, Mosaic; Lyndon Rive, co-founder and Chief Executive Officer of SolarCity, the Nation's largest solar power provider for homes, businesses and governments; Matt Rogers, founder and VP of Engineering at Nest Labs, creator of the Nest Learning Thermostat; and Daniel Yates, founder and Chief Executive Officer of Opower, a cloud-based software company that uses analytics and behavioral science to enable utilities to achieve energy efficiency and customer engagement.
Recognized as the nation's foremost clean energy conversation, this year's summit aims to highlight how the private sector and government collaborate to deploy clean energy, invest in innovation, modernize our nation's electric grid, and reduce climate changing pollution.
The annual conference is co-sponsored by Senate Majority Leader Harry Reid (D-NV), Center for American Progress, the Clean Energy Project, MGM Resorts International and the University of Nevada, Las Vegas. Clean energy visionaries, business leaders, public officials, and advocates will convene this year to discuss the future of our nation's clean energy economy and the progress we have made through innovation, investment in infrastructure, and greater collaboration.
WHO: "National Clean Energy Summit 7.0: Partnership and Progress" confirmed speakers include:
• Former Secretary of State Hillary Rodham Clinton
• Senate Majority Leader Harry Reid (D-NV)
• Billy Parish, Mosaic
• Lyndon Rive, SolarCity
• Matt Rogers, Nest Labs
• Daniel Yates, Opower
More speakers to be announced soon.
WHEN: Thursday, September 4, 2014
9 a.m. – 6 p.m.
WHERE: Mandalay Bay Resort & Casino
3950 S. Las Vegas Blvd.
Las Vegas, NV 89119
REGISTER: To register for Summit 7.0 and for the latest information about the panels and panelists, please visit www.cleanenergysummit.org
Featured Product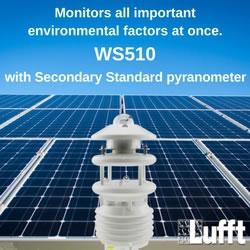 Professional weather sensors form the heart of large solar plants supporting their operation and performance. Lufft was the first manufacturer to combine several sensors in one housing, bringing the largest multiparameter weather sensor family with 19 members into being. Many of them are well-suited for solar site assessment and continuous monitoring. The most commonly used one is the WS600 delivering data on temperature, air pressure, wind, relative humidity and precipitation. Through its open protocol, it can easily be attached to radiation sensors e.g. from Kipp&Zonen. Other models have an integrated Silicon, Second Class or Secondary Standard radiation sensor.